I saw this book as I was meandering through the books on Amazon, and it looked really good. My librarian was good enough to order it for the library, and I got first crack at it when it came in. 🙂

No One Knows

by J.T. Ellison
Published by Gallery Books on March 22nd 2016
Genres: Fiction
Pages: 368
Add to a Goodreads Shelf

In an obsessive mystery as thrilling as The Girl on the Train and The Husband's Secret, New York Times bestselling author J.T. Ellison will make you question every twist in her page-turning novel—and wonder which of her vividly drawn characters you should trust.
The day Aubrey Hamilton's husband is declared dead by the state of Tennessee should bring closure so she can move on with her life. But Aubrey doesn't want to move on; she wants Josh back. It's been five years since he disappeared, since their blissfully happy marriage—they were happy, weren't they?—screeched to a halt and Aubrey became the prime suspect in his disappearance. Five years of emptiness, solitude, loneliness, questions. Why didn't Josh show up at his friend's bachelor party? Was he murdered? Did he run away? And now, all this time later, who is the mysterious yet strangely familiar figure suddenly haunting her new life?
In No One Knows, the New York Times bestselling coauthor of the Nicholas Drummond series expertly peels back the layers of a complex woman who is hiding dark secrets beneath her unassuming exterior. This masterful thriller for fans of Gillian Flynn, Liane Moriarty, and Paula Hawkins will pull readers into a you'll-never-guess merry-go-round of danger and deception. Round and round and round it goes, where it stops…no one knows.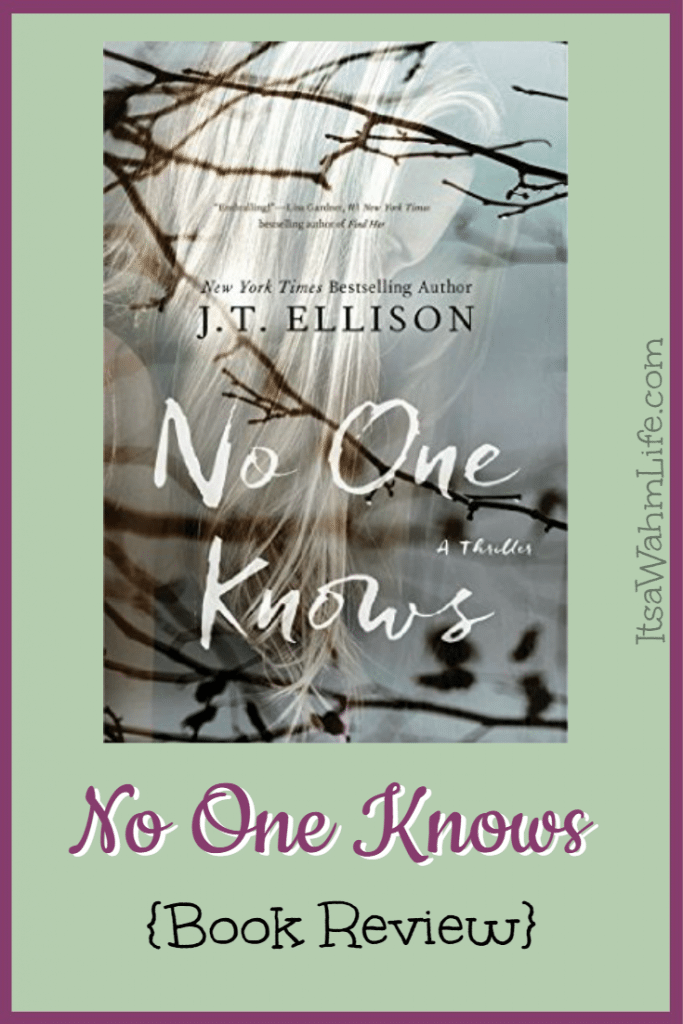 No One Knows was a very twisty, turny, fast paced, exciting thriller. You never really knew where you were going, but you wanted to get there fast. You'd think you knew what was going to happen, only to have something happen in the next chapter that completely changed the trajectory of the story.
This was a good book. I definitely enjoyed it. It seems to be compared quite a bit to Gone Girl and The Girl on a Train, but unfortunately I think I'm the last person on Earth who hasn't read Gone Girl, and I wasn't a fan of The Girl on a Train.
I'm still kind of on the fence about the way No One Knows was written. Each chapter is about a different person, in a different time period and things jump back and forth from time to time and person to person to lay the story out for you. I can see how it worked perfectly for story telling, but at times it was a little difficult to keep up with. There were many AHA moments when we'd jump back in time with another character and something would happen where yet another piece fell into place.
The end was a total surprise, I definitely didn't see it coming. The REAL end was quite a surprise as well. 🙂 Yes, many unexpected turns of events.
All in all I'd definitely recommend this book. It was a quick read, and (when your family isn't pestering you to celebrate Mother's Day, Birthdays and Anniversaries all in one week) it's super easy to fall into. 🙂