I stopped by the Wellington library the other day (yes, we go to multiple libraries all the time!). We stopped by to pick up the book Frindle for Hanna. She found the audiobook and wanted to be able to read along as she listened. As we were checking out, I noticed the Wellington Book Club book for the month was Life is So Good, so I picked it up.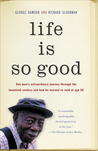 Life Is So Good

by George Dawson, Richard Glaubman
Published by Random House Trade Paperbacks on May 7th 2013
Genres: Memoir
Pages: 288
Buy on Amazon (aff link)
Add to a Goodreads Shelf


One man's extraordinary journey through the twentieth century and how he learned to read at age 98 "Things will be all right. People need to hear that. Life is good, just as it is. There isn't anything I would change about my life."—George Dawson In this remarkable book, George Dawson, a slave's grandson who learned to read at age 98 and lived to the age of 103, reflects on his life and shares valuable lessons in living, as well as a fresh, firsthand view of America during the entire sweep of the twentieth century. Richard Glaubman captures Dawson's irresistible voice and view of the world, offering insights into humanity, history, hardships, and happiness. From segregation and civil rights, to the wars and the presidents, to defining moments in history, George Dawson's description and assessment of the last century inspires readers with the message that has sustained him through it all: "Life is so good. I do believe it's getting better."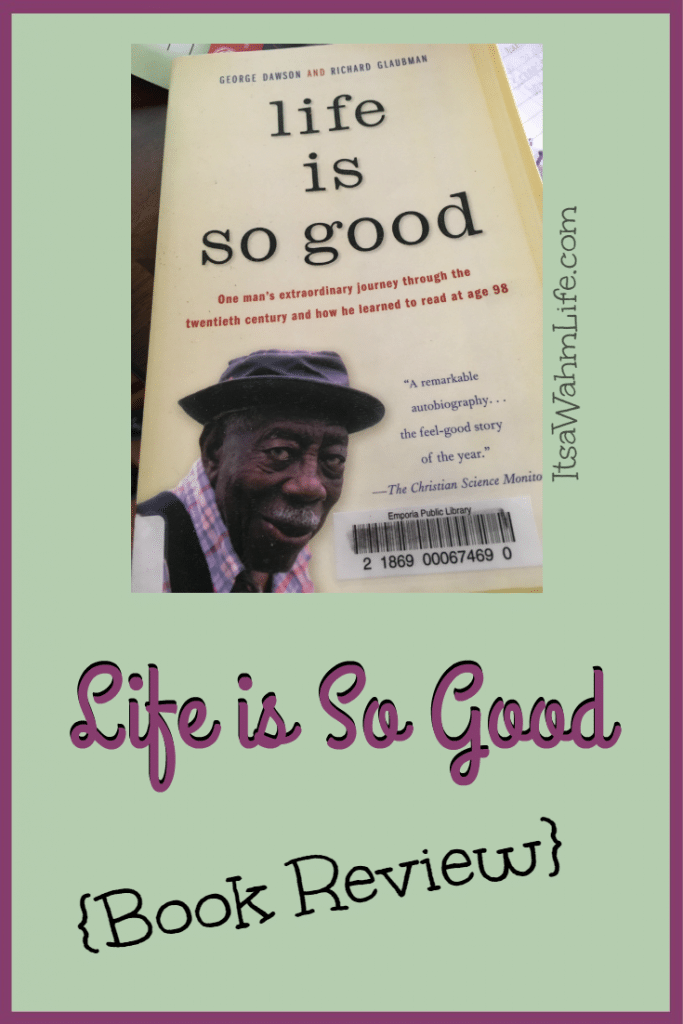 I don't know if I'll get to the book club meeting or not, but I'm so glad I took the time to read this book. It is filled with life lessons, and interesting things to think about. Here's a man who lived through some of the worst times in history, and has every reason to be angry, and hostile, and he wasn't.
So many things I "practice", mindfulness, living in the moment, having an open heart, letting go of judgement, allowing people to live their life, raising kids instead of just growing them, I work so hard at these things… and for him it was just the natural state of life.
Race relations in this country are in such a bad place these days… and I'd wonder, if people took a page from George Dawson's book if we could move past it. Then I'd think, but they've been through so much, they deserve to be angry, then I think… hmmm. He's actually LIVED IT ALL, slavery, the depression, being Black when that fact alone was enough to get your lynched, and he's NOT angry. He's not acting out. He's grateful and kind, and giving, and living his life one day at a time, trying the best he can to give back to the world.
Like I said, there's a lot to think about when reading this book. It's definitely one of those books that will have me thinking, and coming back to the ideas in it long after I've returned it to the library.
One other thing that really hit home while reading this book, from a blogger perspective, is your voice. The book is written just like this man talks. It took some getting used to in the beginning. The grammar is rough, but once I let go of all the "judgments" and started hearing his voice, just as it was written, the more I felt like I got to know him. I felt like he was having a conversation with me, in my head. Which is a huge lesson as far as blogging goes… your voice matters. It makes it easier to connect with readers, and helps them hear your voice in their head, if you loosen up with all the "rules" and just write like you talk. 🙂
All in all I found this a fascinating book, and would most definitely recommend it. In fact, I think it would be a great book for middle grade kids to read. Most kids nowadays have no idea what the world was really like back then, this book gives a vivid picture of life for the last 100 years… at least one version of life, one we don't often get to see.