I recently started Weight Watchers. I'm not much of a breakfast person… I don't like to spend a ton of time in the morning getting breakfast ready and eating it. Morning is my best time of day… it's my most creative time . I like to jump right into work and get started with my day.
However… I know I need to eat breakfast. So I've been hunting around for some easy, weight watchers friendly breakfast recipes. I stumbled on this Quinoa apple hot cereal. My family is not a fan of quinoa, so I knew if I made a big batch it would last me through the week. 🙂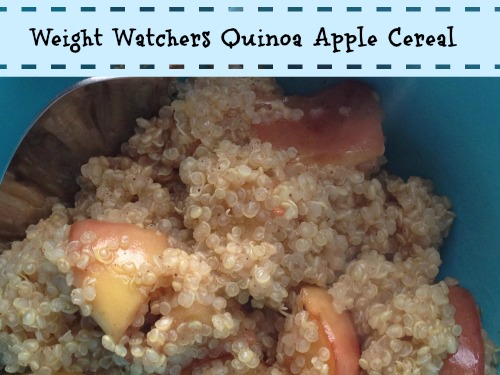 Quinoa Apple Cereal
Here's what you need:
1 cup(s) uncooked quinoa
2 spray(s) cooking spray
1 Tbsp salted butter, divided
3 medium fresh apple(s), chopped or diced (I used two red, and one green)
2 cup(s) water, cold
1/2 tsp ground cinnamon
3 Tbsp packed brown sugar
Here's what you do:
In a medium sized skillet, add half a tbsp of butter. Get it melting and just barely sizzling, and add your cut apples. You're going to let them cook, and get a little carmelized. Tip: Don't move them around a lot. Let them sit still and they'll carmelize better.
While you're apples are cooking get a medium sized pot and put your water and quinoa on to cook.
When the apples are done, turn off the heat and let them just sit there until the quinoa is finished cooking.
When the quinoa is finished cooking at the rest of the butter, brown sugar, and cinnamon to the quinoa and stir well to combine.
Then add the apples and stir gently. Make sure you don't cook your apples too much.. you don't want them to be mushy and just fall apart, a little bit of bite to them is good.
Serve it up in a bowl!
Serving size is 2/3 cup. PlusPoints: 5.
It doesn't seem like much in a bowl… so use a smaller bowl to fool your brain a little bit. AND… the quinoa is filled with protein so you'll find it's very satisfying, even when it looks like so little.
Enjoy!