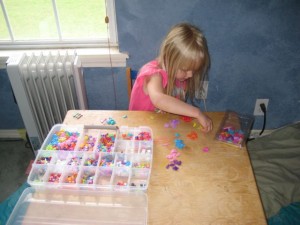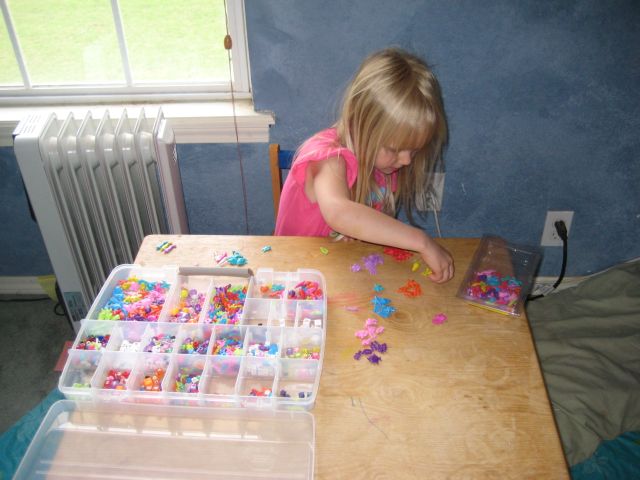 Who knew when I bought a big bucket of  beads how many hours of sorting activities it would provide. 🙂 I can't remember why I decided to buy the big tub, maybe we were thinking about making bracelets or something… but it's some of the best money I've spent.
We brought it home and Hanna immediately dumped it out and started sorting all the different beads. That was a big bucket of beads, and I quickly realized they were going to need a much better organized home. 🙂 So I went and picked up an organizing box ~ I might have gotten ours in the fishing department.
Hanna spent HOURS, literally, deciding which beads should go where, and how to sort them. Some were sorted by type, some were sorted by color, but they eventually all got sorted into their own little spaces in the organizing box.
Shortly after that was finished we started working on our I Spy bottles and I picked up more beads ~ all in different ocean shapes. She found a place to put them in her organizing box.
While I thought the beads would be used to create other things, necklaces, bracelets, whatever… I was wrong. The beads have been used for hours and hours of sorting activities. Some days, like today, the ocean animals are all sorted into "families". From the looks of it, they are color coded families, with one of each animal in each family. Some days she sorts by letters, or animal shape and all the same animals get together, no matter what the color.
What I've found even more interesting though, is the imaginative play that comes from these sorting activities. Yesterday, while she was sorting I heard many conversations amongst the families about tornadoes (we were preparing for some bumpy weather ourselves). The brother was telling the sister it would be ok, and the mother was telling the kids it's time to go to the basement. It was very interesting to listen to her process some of the conversations we'd been having through the day.
On some days the "families" get along great, some days the families don't get along at all… and they fight. Sometimes I just let her work through it, and some days I take the opportunity to talk with her about how the angry family member could talk to the others to express their anger, but not hurt anyone else while doing it.
Who knew… a tub of beads would turn into such a wonderful investment, and provide her with hours of learning and sorting activities… and every once in a while I get a necklace. 🙂