While I'm not a professional Montessori teacher, I did go to Montessori schools growing up, and I'm a mom who loves to help my daughter learn and grow.  I'm also not the most inventive person when it comes to ideas for this learning and growing. Thankfully there are other people who are. 🙂
I must be living under a rock because I had never even heard of flip books until last week. I didn't know how to make them or even how they worked. What I did know is Hanna is WAY into rhyming these days. Every day, in the house, in the car, rhyming, rhyming, rhyming. I also know she is dying to learn to read.
So with a little help from some of my blogger friends I found the Montessori Print Shop. 🙂 I am amazed by all the printable Montessori activities they have available and at such low prices.  I printed off a couple of the free items and I was hooked.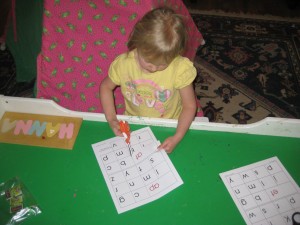 Then I saw they had some rhyming flip books and I knew we had a winner! I was pretty excited by this set because it wasn't just 1 flip book of rhyming words, it was 10! Not knowing exactly what I was doing I printed the pieces out on cardstock. That didn't work… I didn't have a stapler that would go through that much paper. So I reprinted them on regular paper.
Hanna saw the pages laying on my desk and wanted to know what they were. Once she heard, she begged demanded to do them NOW. While it's not really Montessori practice to have the kids make their learning tools ~ I'm not a Montessori teacher, and I just can't pass up a time when she wants to practice cutting, and stacking, and stapling (for the first time) all time spent with me. 🙂
So one by one we cut out the pages, and talked about how the books would work. She was very excited. We got them all together and 10 flip books is really a LOT. (which is good, because Hanna learns fast, and also becomes bored fast. This will give her plenty of books to work with).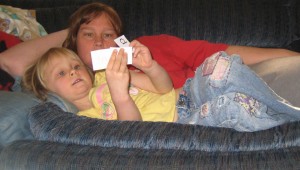 Once we got them all done, she couldn't wait to dig in and start reading. We grabbed a book and started sounding out the 2 letters together. She then sounded out the first letter and put it together with the last two. She flipped to the next page… and then after a few pages a little lightbulb seemed to click, and she started to get that they RHYMED (which she loves).
It was really fun to see that moment when something new really becomes real for your kiddo. I loved that. I also was really happy to find a way to help her start reading on her own. Until now we've been reading books… while she knows almost all her books by heart she doesn't believe she can "read". These little flip books are definitely building her confidence that she can read. She exclaimed a couple times during our time going through them… I read it! I read it!
The one last thing I'm really excited about is… the car.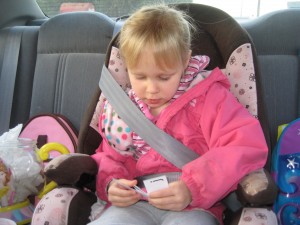 We live at least 15 minutes from everywhere we need/want to go. While Hanna entertains herself in the backseat "playing dinosaurs" it is often loud and quite frankly quite annoying. I mentioned on the way to school this morning she might want to bring one or two of her flip books with her. She was very excited and read them the whole 15 minutes it takes to get to school. She was getting really good at it by the time we got there.
She'll have these words down pat before too long… luckily the Montessori Print Shop has another set of these flip books. The next one has 4 letter words! YAY.
Using Montessori tools may seem a little "scary" if you're not familiar with it at all… but listen. A tool is a tool. Whether you're a Montessori teacher or not, making flip books with my daughter was a fantastic afternoon activity. She loves them. She's learning to read. She gets to have fun rhyming. Don't think too much about using the tools "correctly" just think about how you and your kids can best, and most effectively use them for YOU. The name Montessori can be a bit intimidating for those on the outside looking in, but the Montessori Print Shop has made using Montessori learning tools, easy and accessible. Check them out, and grab your own set of flip books and make them with your kiddo. I'd love to hear all about it! Make sure you come back and tell me how it went. 🙂
The Montessori Print Shop provided samples of the flip books for me to use for my review. No other monetary compensation was provided and as always the opinions (gushing or not) are all my own.