Making flip books is always fun, but with Spring in the air it's time to get outside! I've told you before I'm terrible at coming up with activity ideas but thankfully I'm a good researcher and manage to find people who are awesome at coming up with fun activities for kids!
I'm going to share some of my resources with you today.
I'll be honest here… my friend Mary K wrote this book. With that being said… Mary K is a genius when it comes to fun learning activities for kids. She just whips them off the top of her head, and I'm absolutely amazed at what she comes up with. She put this book together last year, and I got a copy right away.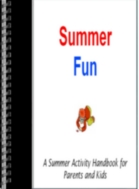 It is a 49 page ebook (so you can have it in your hot little hands in 30 seconds if you so decide!), with 100 simple, fun activities. She provides instructions for each of the activities as well. What I love about this book is you probably have everything you need to do any one of these activities already in your house. It's just a matter of grabbing them and getting started.
This book is geared toward kids 2 – 8, but the activities could be altered to engage older children as well. The book covers categories from Art, Language arts, movement, math, science, music and so much more. Not sure this is right for you? Take a test drive… she's giving away art recipes chapter of the book for free!
One of the things I look forward to doing from this book this summer is making a beach mural. Think big piece of butcher paper, sand, paint, construction paper, little umbrellas. I think it sounds like so much fun! I wanted to do it last year, but didn't get to it… but it's at the top of the list this year for sure. Go ahead, grab The Summer Fun Handbook today… you can thank me later.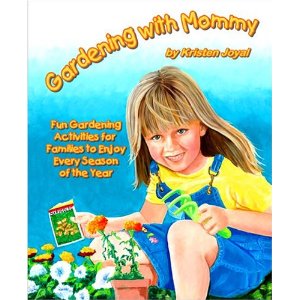 We picked this book up at the garden show probably 3 years ago. The author is local to my area and was there doing a book signing. Hanna was pretty young at the time and it got put on a shelf. In the middle of moving my office upstairs this week I cleaned off the shelf and Hanna found the book. Gardening with Mommy is RIGHT up our alley. We both love to garden, get dirty, play in the dirt… which is what this book is all about.
Each chapter of the book is about a different type of garden. There are "theme gardens" like Wizard of Oz, and a Pizza Sauce Garden. In the Theme garden chapter there is also a recipe to build a Volcano ~ which Hanna found immediately and has since been begging me to let her build. (Maybe this weekend if it's not raining). There's also container gardens, that use a variety of different "containers" ~ including a kiddie pool. There are chapters on outdoor gardens, indoor gardens, gifts from the garden, even holiday ideas for gardening. There are also quite a few resources in the last chapter to continue your garden exploration with your children.
I can't believe I let this book get buried on a book shelf! I see it being one of our outdoor activities go to resources this summer.
You can get a copy of Gardening with Mommy at Amazon.com
Great outdoor activities for Kids from the Web
The TLC Family website has quite a few fun ideas.
If you're looking for some nature activities, Outdoor Nature Child has a lot of great ideas. I particularly like the Nature Scavenger Hunt… that's definitely on our list.
Disney Family Fun has lots of great games for kids, and other summer fun activities.
Like I said, I love to search the internet for great ideas for activities to do with my preschooler… but it can be hard to find some of those fantastic "mom written" sites in my searches. Do you have a blog or know a mom who has a blog that has some great ideas for fun activities outside (or in)? If you do, please share in the comments. I'm always looking for new places to get ideas.
What's your favorite outside activity for the summer?