When I chose this book I read the reviews, and they were glowing.
"… a wonderful ride"
"… laugh out loud"
"… leaves the reader with a warm and tingly glow"
These are just a few of the things I read in the reviews.
As I began the book I wondered if I was reading the same book. I was not feeling warm, and tingly and I was not laughing out loud. At. All.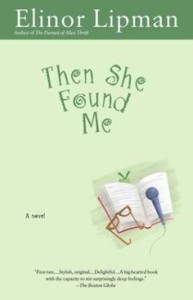 Then She Found Me

by Elinor Lipman
Published by Washington Square Press on April 1st 1991
Genres: Fiction
Pages: 307
Format: Paperback
Buy on Amazon (aff link)
Add to a Goodreads Shelf


April Epner teaches high school Latin, wears flannel jumpers, and is used to having her evenings free. Bernice Graverman brandishes designer labels, favors toad-sized earrings, and hosts her own tacky TV talk show: Bernice G! But behind the glitz and glam, Bernice has followed the life of the daughter she gave up for adoption thirty-six years ago. Now that she's got her act together, she's aiming to be a mom like she always knew she could. And she's hurtling straight for April's quiet little life....
I found the character Bernice to be awful, intrusive, narcissistic, and generally overbearing. Yes, there were times when we could see behind her bravado to the reasons she behaved the way she did, we could see her insecurities, but it just didn't matter to me.
She made the choices she made in her life, and she was unwilling or maybe unable to own up to them, and give people a little space, instead she lied to herself, and then proceeded to lie to everyone else as well. Her character created such a negative reaction in me, it really turned me off to this story.
I did however, enjoy the relationship between April and Dwight. It was a loving and fun part of the book. I guess it was a huge dichotomy between the relationship she has with him, and her mother. The acceptance she finds  in him, vs. the neediness and deception of her mother.
However, this is a light hearted book of fiction. I don't really feel like I'm supposed to have to work that hard to find some sort of redeeming quality to the book.
At this point I'd like to mention something I've noticed in book reviews. If the reviewer has some sort of similar situation in their life, or they are personally acquainted with a situation in a book their reviews can go to the polar ends of the spectrum… 5 star *amazing* or 1 star *I wish I could give it 0*. Books are amazing like that… they can really stir up emotions in us, and get us to look at our own lives through the story of the characters.
I do have some experience with a long time estranged parent, so I probably put myself in April's shoes a little bit. I know, like, know in my heart, I would have walked away from that situation had my estranged parent acted the way April's does.
So understanding my own personal bias in reviewing this book, I'm giving it 3 stars. There are many reviewers who absolutely thought it was a lovely, fun, silly book… maybe it just hit a little too close to home for me.