I never, not once, thought about making a cake in my slow cooker, until one day I was standing in the checkout line at Walmart, and picked up a slow cooker cookbook magazine. On the back page was a recipe for a slow cooker apple cherry cake. It sounded so good I had to try it! I was standing in line already, so it didn't dawn on me to buy the ingredients lol… we made due with what we had at home. 😉
Cherries are in season around here these days, and while they are still expensive, they are less expensive than usual. We already had cherries in the house which is why this recipe caught my eye. The original recipe called for dried cherries, but we subbed it out for fresh. I had absolutely no faith in cooking a cake in the crock pot, so Hanna and I decided it would be an experiment and we'd just see how it went. 😉 It went great. 😀
Apple Cherry Crock Pot Cake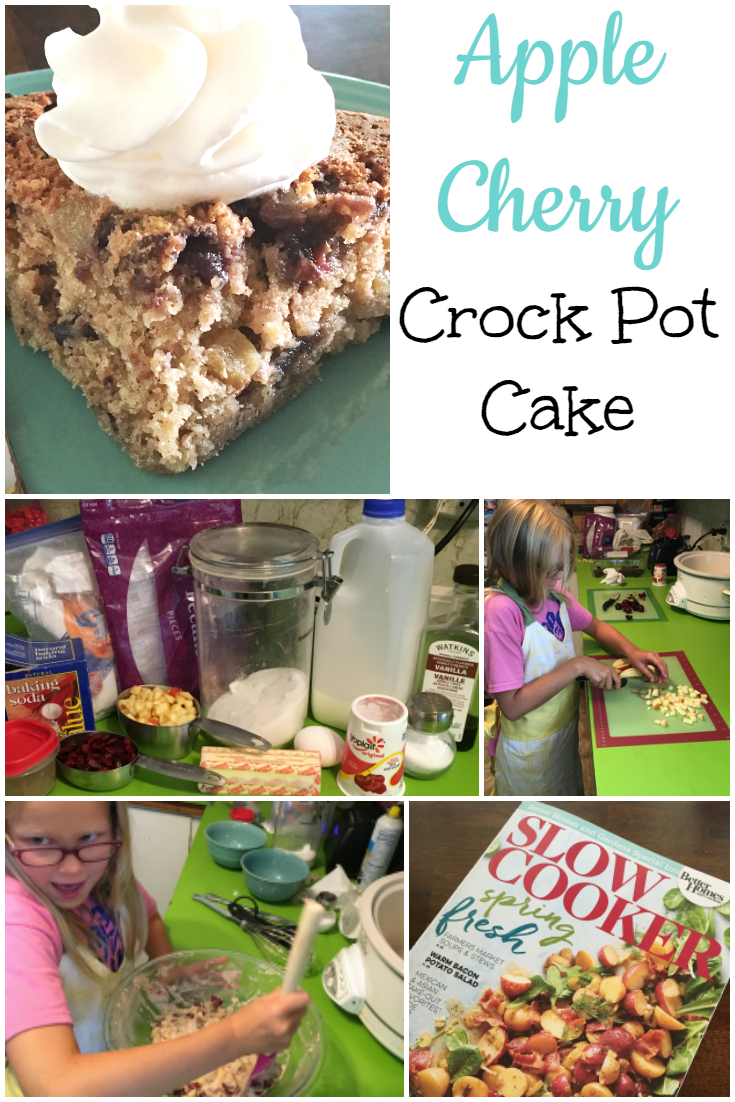 What you need: 
1 container of cherry yogurt (yes, you can also use plain)
1/2 c milk
1 egg
3 tbsp melted butter
1 tsp vanilla
1 3/4 c flour (we used all purpose)
1/2 c sugar (we used a little less because the yogurt was sweet too)
1 tsp baking soda
1/2 tsp salt
1 tsp apple pie spice ** (forgot to buy, made our own, recipe below)
1 c chopped apples
1/2 c chopped pecans
1/2 diced fresh cherries
cooking spray
What to do:
Spray your slow cooker with cooking spray, lightly.
In a large bowl mix together yogurt, milk, egg, butter and vanilla. Stir together to mix well.
Stir in the flour, sugar, baking soda, apple pie spice, and salt.
Stir in chopped apples, cherries and pecans. (remember these are going to be chunks in a cake, so if your kiddo is chopping, make sure they chop to the size chunks you like in your cake. Me, I don't like big chunks. 😀 )
Pour or spoon the batter into the crockpot. It will be thick. Spread it out across the bottom so it's even across the whole insert.
Cover your crockpot, and cook on low for 2 1/2 hours. Once the time is up, the center should be nearly set. You may have to rotate your insert one time during cooking if you notice it's not cooking evenly. I did not do this, and we were fine.
When the time is up, pull out your insert and set it on a rack to cool. Make sure you run a knife around the edge to loosen the cake before cooling. Let it cool for 15 minutes, then remove the cake, and let it cool completely.
Serve with whipped cream (or ice cream!).
This cake was so easy, and so delicious! I'd definitely say this experiment was a win! Go ahead and try it out! I bet you'll love it too.
Enjoy!!
** Apple Pie Spice Recipe
Apple pie spice is super simple to make. We had all the spices we needed on the spice rack, we made it in a container that has an air tight lid since the recipe makes more than you need, you'll have it on hand. Another bonus, it uses spices that aren't often used, so you'll use them up too. 🙂
Apple Pie Spice:
1 tbsp ground cinnamon
1 tsp ground nutmeg
1 tsp ground all spice (I had berries, and just ground them up in my blendtec)
1/2 tsp cloves
a dash of cardamom (optional…but lovely)
Add all the ingredients to a bowl, and mix well.