I don't know how it happened… but I ended up with a kiddo who doesn't really like to read. I know! Tell me about it, it's like a knife in the heart!! To make reading a little more fun for her, and to give us some quality time together we decided to start reading a book together each month. We take turns reading out loud. It's been a really good experience, and instead of dreading her reading time, she actually looked forward to it, and asked (repeatedly) when we could read. 🙂
Last Summer while in Tulsa, I went garage sale hopping with my Mother In Law. We hit a sale that had tons of good books for her. I don't know why I keep buying her books… she doesn't really like to read. 🙂 I guess I figure if I keep buying them something will click and she'll magically realize how AWESOME reading is. 🙂
The Secret Language of Girls is one of the books I picked up that day. It's the book she chose to read together this month.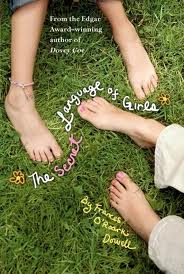 The Secret Language of Girls (The Secret Language of Girls, #1)

by Frances O'Roark Dowell
Published by Atheneum Books for Young Readers on October 1st 2005
Genres: Fiction
Pages: 247
Buy on Amazon (aff link)
Add to a Goodreads Shelf


In the old days, when Kate had no interest in romance, she never cared what other people thought. Now, it appeared, love was turning her into a rotten human being. Eleven-year-old Kate Faber wishes she could talk to her best friend, Marylin, about this. But Marylin is no longer her best friend. Or is she? Kate and Marylin were always the kind of best friends who lived on the same block for their entire lives, and who agreed on what kinds of boys were worth kissing and who should be invited to their sleepover. The kind of best friends who didn't need words to talk, but who always just knew. But lately Marylin has started to think that Kate can be a bit babyish. And Kate thinks Marylin is acting like a big snob. Somehow nothing is the same, but secretly Kate and Marylin both wish it could be...
Here's our review: 
If you're reading this book for the Year of Words book club, I'd recommend the words "grow" or "process" for this book. If you're not yet part of the Year of Words book club… you should join us!
Happy Reading!