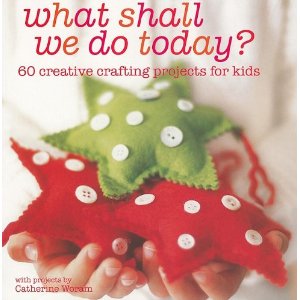 If you're world is anything like mine, that's one of the first questions you hear. Coming up with entertaining, fun and educational activities can be tough. I like to try to make the things we do fun with a twist of learning added in, whether we're working on numbers, letters, animals, colors, there's always something fun to do to really bring the lesson home.
I search the net for these fun activities (which can be time consuming!), but sometimes I find a book that rocks my world. I found one such book on our last trip to Michael's (the craft store we can get lost in for hours) 🙂
60 creative crafting projects for kids. What I particularly like about this book is the crafts are cool. They are interesting, and things I would actually do. My daughter is 4, and a lot of times I find the projects for four year olds to be kind of  simple. She's a smart little chicklet, and we need activities that will really keep her engaged. The crafts in this book definitely do that.
I also like the book is broken up into seasons. It makes it really easy to search the book, because you know if there's 3 feet of snow outside your door, the ideas in the Winter section are probably going to work. 🙂 Each activity has a "what you'll need" box, with a list of the items you'll need, and well detailed instructions to complete the activity. Most of the activities are things you probably already have around the house. We got this book this Winter… which is my least favorite season. I'm really excited to get to the Spring activities, they look like a lot of fun.
For the price of this book (we paid 19.95 and you can get it for as low as 7.99 at Amazon.) I think we'll have activities to do for at least a couple years. Unlike other craft books we've gotten I don't think she'll outgrow this one very quickly.
Numbers Activities:
I'm trying to work with Hanna on her numbers and went on a search for activities. I found a couple that I'm really excited about.
Jenae from ICanTeachMyChild.com introduced me to these Do-a-dot markers. (First I've seen of them, not sure where I've been) anyway… she has a great numbers/counting activity with them. I can also see adding dot spots to a ladybug to work on counting and numbers.
Once I found out about these do-a-dot markers I did a quick search and realized just how many projects they are good for. I quickly ran to Amazon and picked up a set. (Thanks Jenae!)
I found another really cool counting/number activity based on The Very Hungry Caterpillar. You print out the activity, and your create the caterpillar as long as the number in front of it.  Since we're still waiting on our markers to come, we're going to use small round stickers to work on this project today.
If you're looking for activity ideas for younger kids No Time For Flash Cards, has been my favorite since Hanna started to craft. Always new and wonderful ideas for  younger kids to get in on the learning, counting, spelling and crafting fun.
Art Activities:
I found some fantastic art sites this week as well. I'm really excited to have some art resources.
Deep Space Sparkle ~ ah, they had me a the name. 🙂 I landed on the Arty Hearts page, which was inspired by Picasso, what a great way to start talking to our kids about art, and artists. Love it. As I looked through the site I realized there would be an almost infinite amount of inspiration there!
Deep Space Sparkle led me to Painted Paper, where I fell in love with this project idea. Boats on the Mediterranean. What a fun idea, and the pictures came out gorgeous!!
That's what I found on my journey around the web this week. I'd love to know your favorite sites to answer the questions "What are we gonna do today?!". Please, share in the comments!