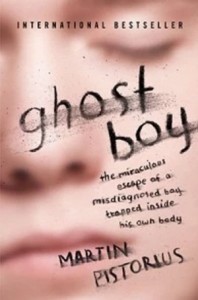 Ghost Boy: The Miraculous Escape of a Misdiagnosed Boy Trapped Inside His Own Body

by Martin Pistorius
on November 19, 2013
Genres: Memoir
Pages: 286 pages
Buy on Amazon (aff link)
Add to a Goodreads Shelf


They all thought he was gone. But he was alive and trapped inside his own body for ten years.

In January 1988 Martin Pistorius, aged twelve, fell inexplicably sick. First he lost his voice and stopped eating. Then he slept constantly and shunned human contact. Doctors were mystified. Within eighteen months he was mute and wheelchair-bound. Martin's parents were told an unknown degenerative disease left him with the mind of a baby and less than two years to live.

Martin was moved to care centers for severely disabled children. The stress and heartache shook his parents' marriage and their family to the core. Their boy was gone. Or so they thought.

Ghost Boy is the heart-wrenching story of one boy's return to life through the power of love and faith. In these pages, readers see a parent's resilience, the consequences of misdiagnosis, abuse at the hands of cruel caretakers, and the unthinkable duration of Martin's mental alertness betrayed by his lifeless body.

We also see a life reclaimed—a business created, a new love kindled—all from a wheelchair. Martin's emergence from his own darkness invites us to celebrate our own lives and fight for a better life for others.
Our library has a circular spinning bookshelf. It sits right in the front of the library. It's filled with "new" books. It is my favorite part of the library, and my nemesis. I can almost always find at least 3 or 4 books on the circular bookshelf that I want to read. But, I have my Summer Stack. And it's taking all the will power in the world to stick to the plan.
I mention the circle shelf because that's where I found Ghost Boy. I was at the library one day, not looking for books or anything… I think I had a meeting. But there it was, and I was intrigued. I didn't pick it up the first day I saw it, and the next time I went in to get it, it was checked out, but I finally got it, and it became the second book on my Summer Stack.
Ghost Boy.
Extraordinary.
It's the only word that really comes to mind when I try to think of something to say about this book. It is a truly extraordinary story. A perfectly healthy boy falls ill, worsens over time until he is completely vegetative. However, at some point, years later, he begins to come out of it, his mind awakens, but his body does not. While his mind is conscious, alert, and awake no one notices. Everyone continues to treat him as though he is gone.
Martin, the boy this happened to, tells the story from his point of view. He tells of the frustration, and anger, and sadness he experienced while waiting for someone, anyone to recognize he had come back.
Things began to change because one person noticed. One person was able to see past his body and notice his mind was alert. She was able to convince his parents he was really in there, and the story goes on from there. He shares the struggles and triumphs he experienced on his journey, and through his life.
I was touched, moved and horrified as I read parts of his story. It really made me think, and made me reevaluate how I look at people.
This was an exceptional memoir. It is told in almost "short story" form. The chapters are basically short stories, or memories he shares. They do not go chronologically so at times it can be difficult to keep track of where/when an event is taking place, but it does not take away from the overall excellence of this book.
I highly recommend this book. If you want to start reading it right now, head over to Amazon.com and grab the kindle version (it's $2.99 at the time of this writing)… you can be reading in less than a minute. They also have the hardcover, paperback and audible versions of this book as well.