After I raved about No One Knows at my last book club, the librarian was quick to order another J.T. Ellison book, and put it on hold for me as soon as it came in. Can we just say, yesterday, when I should have been making a video for my blog, I was holed up in my room sucked into a world of intrigue and mystery?!

What Lies Behind (Dr. Samantha Owens, #4)

by J.T. Ellison
Published by Mira on May 26th 2015
Genres: Fiction
Pages: 395
Add to a Goodreads Shelf


Waking to sirens in the night is hardly unusual for Samantha Owens. No longer a medical examiner, she doesn't lose sleep over them, but a routine police investigation in her neighborhood has her curious. When her homicide detective friend, Darren Fletcher, invites her to look over the evidence, she jumps at the chance and immediately realizes the crime scene has been staged. What seems to be a clear case of murder/suicide—a crime of passion—is anything but. The discovery of toxic substances in hidden vials indicates that something much more sinister is at play…
As Fletch and Sam try to understand what and who they are dealing with, they are summoned to a meeting at the State Department. High-level officials are interested in what they know and seem to be keeping secrets of their own. It's up to Sam and Fletch to uncover what lies behind the deception as the threat of bioterrorism is exposed, and her boyfriend, Xander Whitfield, may be in the line of fire.
Unsure who to trust, Sam and Fletch find themselves up against very powerful people at every stage in the investigation. No one is who they appear to be and with every minute that passes, the danger escalates. It's Sam's most complex case yet and the terrifying reality is beyond anything she could have imagined.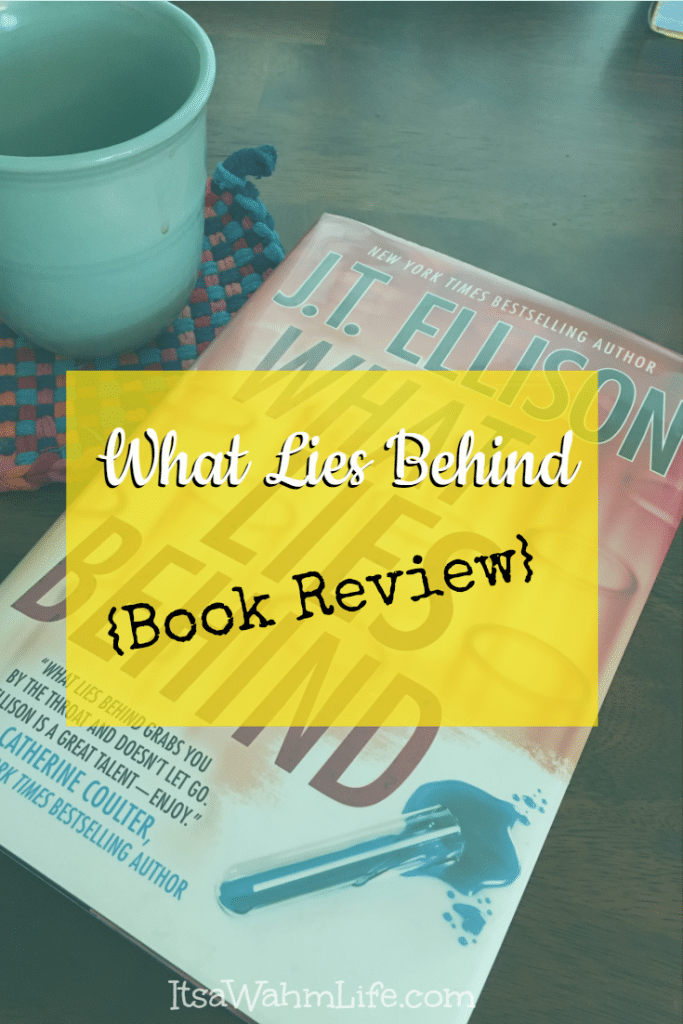 It seems J.T. Ellison has written a few series. There's the Taylor Jackson series (7 books) and she's written 3 books with Catherine Coulter called "A Brit in the FBI" series. and then there's the Samantha Owens novels, of which there are currently 4 books.
Unfortunately I didn't realize this was a series until after I finished What Lies Behind, and it happens to be the last book, so far, in the series. I'm definitely going to go back and start from the beginning.
What Lies Behind was intriguing, and gripping, and grabbed me right from the beginning. The characters are well developed, and likable (and hateable lol depending on the character), but most of all I really cared about them. I enjoyed watching as we gained more details into their relationships, and connections.
This book is not filled with "twists", though there was one pretty big surprise about 3/4 of the way through, that I absolutely did not expect. Don't wait for some "shocking twist" at the end, it's not really coming, what came instead was a well put together mystery, with action and adventure.
What I like about this book, and books like this one, is the element of possibility. Yeah, the plot is somewhat far fetched, but not really. There's a grain of possibility, and I really like that. (Well, I don't know if "like" is the right word… it scares the bejeezus out of me lol).
All in all, another great book from J.T. Ellison. I think I will go back to the beginning of this series and start there, and then try out another of her series (starting from the beginning this time, of course lol). I'm a sucker for a series. I love getting to know the characters over time, and multiple books, so this makes me even more excited about What Lies Behind, and J.T. Ellison.