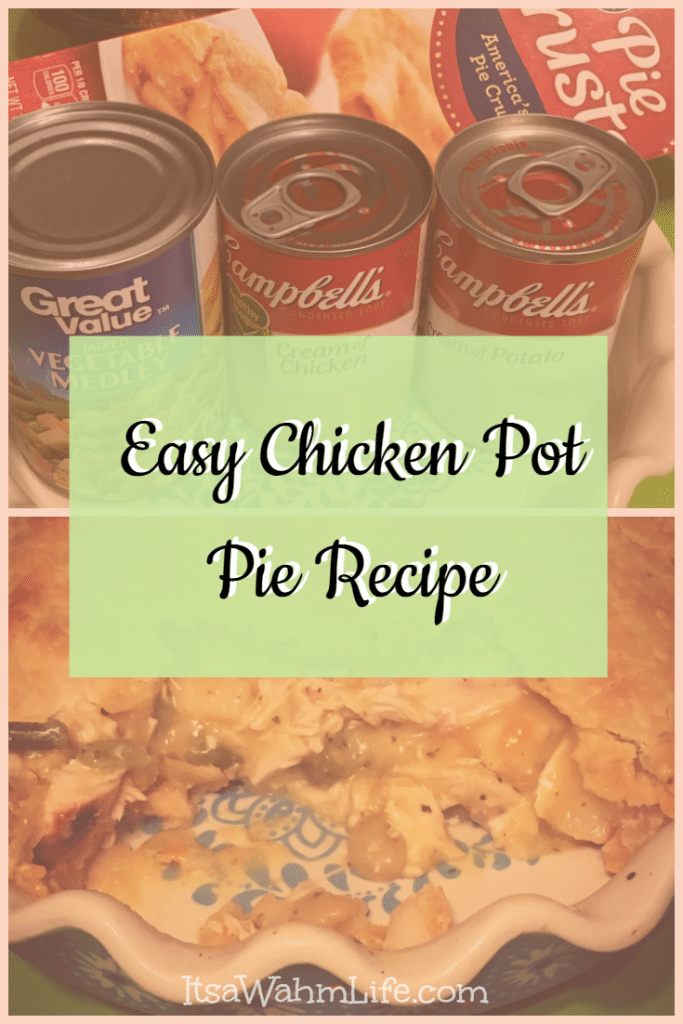 Chicken Pot Pie is one of Hanna's favorite dinners. She asks for it to be on the menu all the time. It feels more like a "winter" dish to me, but she squeaked it on the menu last week as one of the things she was going to cook. It's always such a hit with her, I was a little worried about losing my "magic mom" status when she saw just how easy it is to make. 🙂 I'll give you fair warning; this is an easy chicken pot pie recipe, with a bunch of short cuts. She wanted to make her own crust, but, that's a little more than I was willing to do. 😉 Maybe one day soon her Grandma will come over and teach her how to make a great pie crust, but I'm not sure she's going to learn that one from me.
Just a heads up, depending on the size of your pie plate you can make adjustments on how much chicken and veggies you add. If you're using small aluminum pie plates, one can of veggies is probably all that will fit. We used my new Pioneer Woman pie plate for the first time making chicken pot pie, and it easily would have fit an additional can of veggies. I didn't realize just how big it is. I do adore that pie plate… Hanna and my mom hunted all over Wichita last Christmas until they found one for me. <3
Ok, on to how to make chicken pot pie.
Easy Chicken Pot Pie Recipe
What you need: 
2 pie crusts (buy premade or make them yourself if you're feeling adventurous)
1 can cream of chicken soup
1 can cream of potato soup
1 can of veg all (if you're using a large pie plate like the Pioneer woman pie plate add 2 cans of Veg All there will be plenty of room)
1 Rotisserie chicken
Spices: we used garlic powder, italian seasoning, onion powder, salt and pepper
What to do: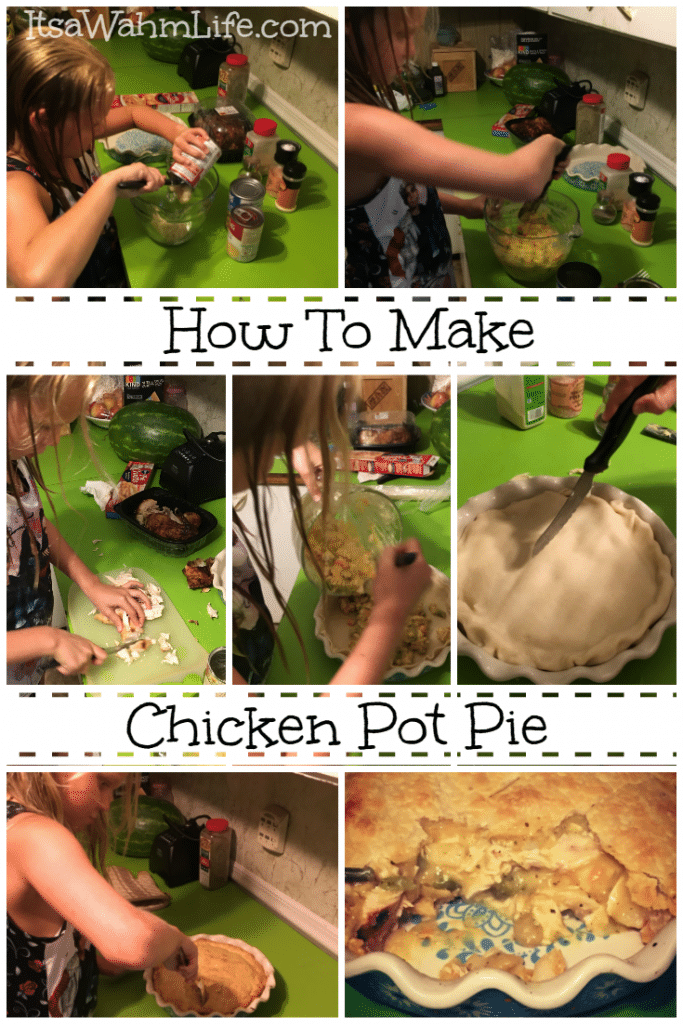 Have your kiddo preheat the oven to 425 degrees.
Then have them open all the cans and pour them into a large bowl. Make sure they drain the Veg All. We used a large batter bowl. I like that it has a handle to grab on to when you're ready to pour into the pie pan.
Have your kiddo pull the breasts off the rotisserie chicken and cut into small(ish) pieces. Then add the chicken to the rest of the ingredients in the bowl. Stir to combine. Add spices to your liking.
Help your kiddo unroll one of the pie crusts and lay it gently in the pie plate. Form it up around the sides, but don't pack it tightly against the sides.
Pour the filling into the pie plate, and spread out so it's even across the whole pie plate.
Unroll the second pie crust and lay it over the top. Now, you're going to tuck it in behind the bottom one and roll it over a little bit to create a seal. It doesn't have to be perfect, and you can trim the top crust if there's more there than what you need. Let the kiddo do this part… remember, it doesn't have to be perfect. You can flute the edges if you're feeling fancy. 😉
Cut a couple slices into the top of the crust. A smiley face is always nice.
Pop the whole thing in the oven for 30 minutes and then check on it. The crust should be golden brown, and flaky. If it's not, bake for another 5 to 10 minutes. It will smell like crispy, flaky pie crust when it's ready.
Pull it out of the oven when it's done, and let it sit a minute or two, and then dish it out. Yum.