Man, this Summer has been nuts so far. It feels like we're on the go way more than we've ever been. Which makes it even more important for me to take time for myself and read. It really is the best way for me to "refuel". Me Before You has been on my TBR list since way back in the beginning of the year when I was doing the year of words book challenge. It was on the "connect" list. (oh and it would be amazing for the word connect!! or intention!) There was something in the description of this book though, that kept me from putting it at the top of the list. I thought it was going to be a fluffy, beachy, romance book. Um. No.

Me Before You (Me Before You, #1)

by Jojo Moyes
Published by Pamela Dorman Books/Viking on December 31st 2012
Genres: Fiction
Pages: 481
Buy on Amazon (aff link)
Add to a Goodreads Shelf


Lou Clark knows lots of things. She knows how many footsteps there are between the bus stop and home. She knows she likes working in The Buttered Bun tea shop and she knows she might not love her boyfriend Patrick.
What Lou doesn't know is she's about to lose her job or that knowing what's coming is what keeps her sane.
Will Traynor knows his motorcycle accident took away his desire to live. He knows everything feels very small and rather joyless now and he knows exactly how he's going to put a stop to that.
What Will doesn't know is that Lou is about to burst into his world in a riot of colour. And neither of them knows they're going to change the other for all time.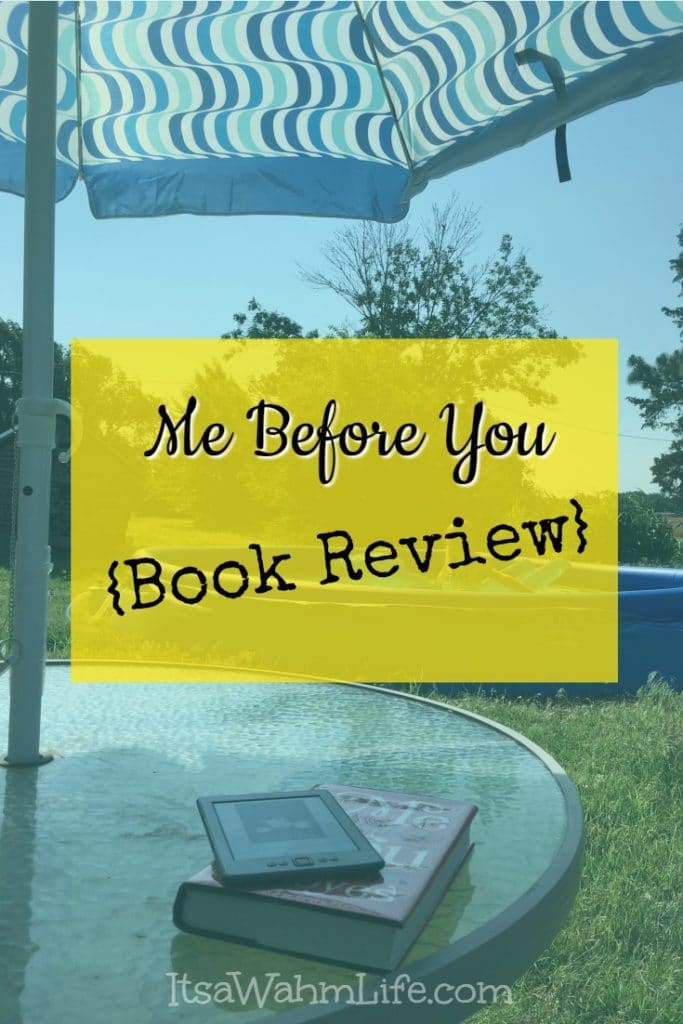 This book is so NOT fluffy. It covers some pretty heavy topics in fact, but it's still incredibly easy to fall into the story, and get lost in the book. This was one of those books where I read, and read, and read, and my daughter sat on the couch next to me in her bathing suit, asking me if I was EVER going to swim.
This book was so good I didn't even take time to have the whole "I'm an introvert, this is how I refuel my energy so I can have fun in the pool with you later," conversation. I think I just grunted and said later. 🙂 Although I did read quite a bit of it outside, while she was swimming. (win/win parenting eh?!)
Anyway, the characters in this book are masterful. They are flawed, but not mean or unredeemable like in The Girl on the Train. They are real people who have lived real lives (although completely different lives) who meet and begin to care about each other. Through the relationship they create they begin to change. They begin to grow. They become better versions of themselves, which is ultimately the best thing a relationship can do for you.
I'm not giving any spoilers here… but just know, this isn't JUST a relationship/romance book. There is a driving plot, that keeps you flipping pages as fast as you can finish the last word on the page. It drives you to the very end.
I remember saying to my mom when I was about halfway through the book.
"I'm hoping for a happy ending, but I can see it going either way."
When I finished the book (and bawling my eyes out for the last two chapters), I still wasn't sure which ending I got, but I was satisfied, and knew it was the best and only ending there could have been.
We read this for book club this month, our meeting is this morning. I'm very excited to talk about this book with them (including the spoilers!). If you're looking for a good summer read, I highly recommend Me Before You. The movie came out this month. I never, (well very very rarely) see movies made of books, but I can see this one being quite good, and I might even watch it when it comes out on Prime. 🙂
Now I just need to get my hands on the sequel, and some of her other books.