Sometimes you're stuck. You're struggling. You're frustrated, and overwhelmed. You sit waiting, worrying, completely freaking out about what comes next. You send messages to the Universe, you beg, you plead ~ send me something, inspiration, focus, answers, anything, just help me get me moving again.
And sometimes the Universe answers with Big Magic.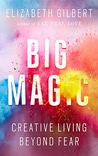 Big Magic: Creative Living Beyond Fear

by Elizabeth Gilbert
Published by Riverhead Books on September 22nd 2015
Genres: Self Improvement
Pages: 288
Buy on Amazon (aff link)
Add to a Goodreads Shelf


Readers of all ages and walks of life have drawn inspiration and empowerment from Elizabeth Gilbert's books for years. Now this beloved author digs deep into her own generative process to share her wisdom and unique perspective about creativity. With profound empathy and radiant generosity, she offers potent insights into the mysterious nature of inspiration. She asks us to embrace our curiosity and let go of needless suffering. She shows us how to tackle what we most love, and how to face down what we most fear. She discusses the attitudes, approaches, and habits we need in order to live our most creative lives. Balancing between soulful spirituality and cheerful pragmatism, Gilbert encourages us to uncover the "strange jewels" that are hidden within each of us. Whether we are looking to write a book, make art, find new ways to address challenges in our work, embark on a dream long deferred, or simply infuse our everyday lives with more mindfulness and passion, Big Magic cracks open a world of wonder and joy.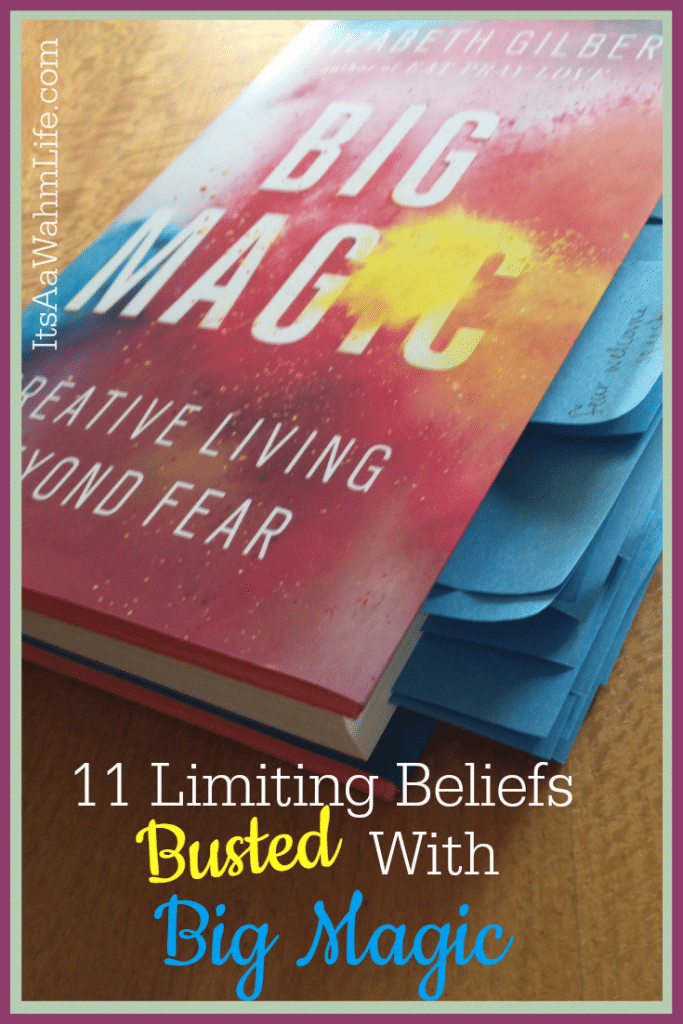 I'd like to share with you some of the answers I've found in Big Magic. The questions, fears, concerns, downright phobias I've had about living my creative life… and the answers I've found in the pages of this book. 🙂
People want what they want when they want it. They don't want to wait.
Months before this book came out Elizabeth Gilbert was creating buzz. She was talking about it on Facebook, on podcasts, in interviews, and of course in Magic Lessons, her own podcast. I've always worried about "creating buzz" because I find it frustrating when I'm excited about something to wait until it comes out.  I worry people will lose interest if they can't get what they want immediately. When I want something, I want it right now. I assumed the rest of the world was the same.
However, as I experienced waiting on pins and needles, getting more and more excited each day she posted "only ___ more days until Big Magic" and found myself heading to the bookstore early on the morning of September 22, I realized I was crazy. I can not imagine anything better than the feeling I had during the hour it took me to get to that bookstore. The anticipation. The excitement. The sheer joy at the thought of reading this book. Yeah, all that over  a book. I didn't wait until September 23 or October 1st to go get it, I was there, the morning of the first day it was available. I've been shooting myself in the foot believing people won't wait, and they'll lose interest before the launch date. Not any more.
If you start something you have to keep doing it forever.
Sometimes I sigh at myself, over the things I believe. I started listening to Magic Lessons the week they came out. I'd go for a walk with my ear buds in, and just listen to the magic that happened on those podcasts. I got to the last one, with Brene Brown, and at the beginning of the show Elizabeth said, well this is the last one. I'm going to be busy with the book tour, and I won't have time for more magic lessons right now. Huh? What? I couldn't believe it, it completely smashed a huge limiting belief I have. I don't start a LOT of things because I believe if you start something you have to keep doing it forever. (yes, I know!). Here is Elizabeth Gilbert saying, nope. I did these because they were fun, and I loved it, and now I'm done and moving on to other things. Maybe I'll be back later, but for now, it's over. The sigh of relief that exited my body was amazing.
If I let fear out of the bag it will take over, and I'll never gain control of it again.
Elizabeth addresses this in the Road Trip chapter beautifully. She tells us that fear is part of the journey. Give it a seat in the car, but don't give it a vote. It's kind of like that person who always has "advice" about your parenting. I've learned to nod, say thank you, and then continue on my way. Fear can be the same way. You can listen, nod, say thank you for your input and then continue on your own path. You do not have to take fears advice! You also don't have to keep it completely muzzled. Let it speak, choose not to follow the advice.
I can't call myself a "writer", I'm just _____.
It's time to stand up and announce yourself to the Universe. It's time to throw your own debutante ball and come out as the creative you are.
"Hearing this announcement, your soul will mobilize accordingly. It will mobilize ecstatically, in fact, because this is what your soul was born for. (Trust me, your soul has been waiting for you to wake up to your own existence for years.)."
Your soul has been waiting on YOU, to declare who you are. Whether you're a writer, a painter, a gardener, a chef, and you "only" blog, or do finger painting with your kids, you "just" grow a few tomatoes, or cook macaroni and cheese on Tuesday nights…. you ARE what you are. It's time to stand in the middle of your creativeness and claim it as your own.
I can't write that… it's been done a million times.
Not by you. I kicked this limiting belief a while back, but sometimes it creeps up on me again. No one has said what you have to say like you can say it. No one has had your experiences, your life, your point of view. I loved this line in the book:
"Just say what you want to say, then, and say it with all your heart. Share whatever you are driven to share. If it's authentic enough, believe me — it will feel original. "
I never studied to be a writer. Who am I to write?
You can go to fancy schools, study with the best of the best, and ultimately it will come down to you. You will have to do the work. You will have to write. You will have to put in all the hours, it will be entirely up to you.
" The sooner and more passionately you get married to this idea — that it is ultimately entirely up to you — the better off you'll be".
I'm afraid to guest post on big sites because I don't think I can handle the hateful, ugly comments that will come.
It's been on my "to do" list for literally YEARS. I have yet to send my submissions off to the Huff Post, or other big name places, because I'm just too afraid. The comments on every post, no matter how amazing are always horrible. I don't think I can handle it. I asked an author friend of mine, who has been guest posting a TON running up to her new book release, how she handles it. She replied, "I never read the comments. Ever." That definitely got me to thinking, and then I read what Elizabeth had to say in Big Magic.
"… The results of my work don't have much to do with me. I can only be in charge of producing the work itself. That's a hard enough job. I refuse to take on additional jobs, such as trying to police what anybody thinks about my work once it leaves my desk."
OMG, holy relief. I can let go of worrying and even thinking about what people think about my work once it's left my desk… my job is to produce the work itself.
Her thoughts on how to respond to attacks and ugly comments about your work… well you'll have to read that on page 125, and I assure you, it's worth it. 🙂
Writing is hard, serious work.
Elizabeth flipped this whole idea on its head for me. She talks about how your creative work is the icing on the cake, it's the extra yumminess, it's the treat of life. As a writer, can you imagine your life without it? It's the GOOD part of life, so go ahead and look at it that way. It's the playtime, the time where you get to be happy, and have fun. I much prefer to look at it this way for sure.
You have to suffer to write. The suffering is where all the good stuff comes from.
Bullshit. Yep, Elizabeth calls BS on this whole idea. I have definitely wrestled with this. It sometimes feels as though my ideas come from the darkness. It feels like I have more ideas when things are going wrong and falling apart around me, but when I truly LOOK at the reality of the situation, and not through the tainted lenses of this belief, I can see it is completely untrue. My best work comes from joy, from love. It comes down to what you trust in this world. Do you choose to trust suffering, or do you choose to trust love? Either way, it's always your choice.
"Love over suffering, always"
You have to know your passion to be creative, to write.
And then what happens when you don't know your passion? What happens then? You can't write. You get stuck. How many people really know their passion? I know I've always struggled with this concept. I'm passionate about this thing one day, and then it wanes, and I get excited about something else, and then I beat myself up because I can't even maintain my passion! Elizabeth posits there is something better than passion, something that will take us on a scavenger hunt passion couldn't even comprehend.
"Curiosity is the truth and the way of creative living."
The chapter on curiosity… entirely changed my point of view on passion. I'm pretty excited to make friends with curiosity. 🙂
I can't put this thing I've created out there, it might fail.
It's scary putting your heart and soul into your work, and sometimes things fail. A piece flops. It can be scary enough to keep you from putting your work into the world. Don't let it. Put your work out there, and if it fails, it fails. Don't spend a lot of time on the failure, move to the next project, start creating again. Your creative life is not lived in dissecting the failure, it's lived in the creating.
"You don't need to conduct autopsies of your disasters. You don't need to know what anything means… Chop up your failure and use it for bait to try to catch another project."
There are so many more things I've come to understand in this magical book. I loved Eat Pray Love, it changed the way I looked at my life, Big Magic has done even more for my creative life. It's turned things upside down and inside out, got me to look at my work in a completely different light. If you're looking for a creative life, no matter what kind of creating you want to do, I highly recommend getting this book. It really is Big Magic.