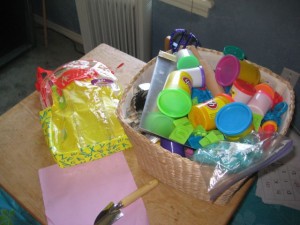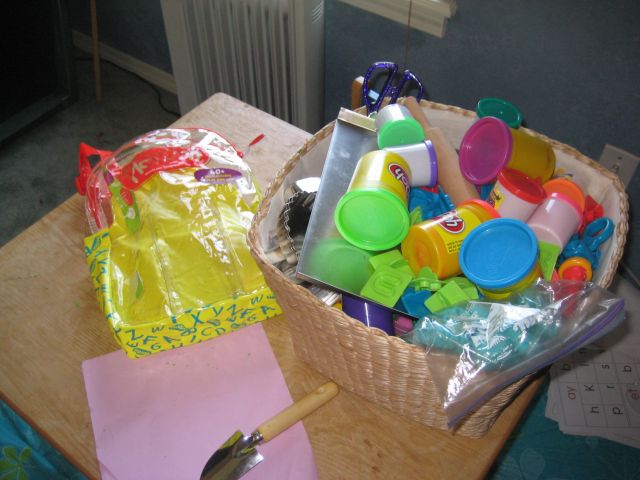 I recently printed out some "ending sound cards" from The Montessori Print Shop and had them laminated (yes, my own laminator is still on the wish list). Anyway… Hanna's been having fun writing the last letter in for words. She's also been having a blast with play dough since I moved my office upstairs. She's got a little table in my office and has been playing with play dough for hours and hours some days. I thought it would be fun to get her some cookie cutters in the shapes of letters so she could spell with her play dough.
So the first thing I did was check out play dough items. I didn't really want any actual play dough, we make our own, but I was NOT thinking outside the box. 🙁 I picked her up a cute little set for her birthday, and she really likes it. (Although, I must admit all the new Barbie and Tawny set and the new Nickelodeon Fit game have currently replaced fun Play dough time)
The day after I picked up the playdough kit with letters we ran to Bed Bath and Beyond to pick up a new Indestructable Cup for my husband (he destroyed his last one ~ yes, I get the irony there.) and I saw a cookie cutter kit of 100 cookie cutters, including the entire alphabet for less than what I paid for the silly play dough kit I had already bought. *sigh*
Let this be a lesson to you (and me). Think outside the BOX!! I just checked Amazon and when I put in cookie cutter kit with letters, wouldn't you KNOW ~ there are quite a few sets of JUST letters, no unnecessary play dough involved, and for less than what I paid for the play doh set.
What are you gonna do? I'll know better next time. I can't wait until she's ready to test out the letters.
On a side note: She got this  VERY cute Fox Fun Junior baking set from a friend of ours. It included a small cookie sheet, small rolling pin, whisk, 2 small tart pans, 2 larger tart pans (and more). It's adorable. The first thing she did once it was open was run upstairs to the play dough with it. She made some KILLER cookies and pies that day. 🙂
Now her play-doh basket is so full I'm going to have to do something different… thinking a new set of squares and baskets for this room. Oh well… we'll figure out something. What's your kiddo's favorite play dough games to play? I'd love to hear.