The world of homeschool can be a little (ha a lot) overwhelming. There are tons and tons of acronyms and abbreviations… you think I'm kidding? Here's just a few:
Science:
BFSU = Building Foundations of Scientific Understanding
RSO = REAL Science Odyssey
HMI = Howard Hughes Medical Institute (great free resources)
Math:
AOPS = Art of Problem Solving
BA = Beast Academy
LOF = Life of Fred (not secular)
MM = Math Mammoth
MUS = Math-U-See
RS = Right Start
TT = Teaching Textbooks
KA = Khan Academy
Language Arts:
AAR = All About Reading
AAS = All About Spelling
BW = Bravewriter
ETC = Explode the Code
FLL = First Language Lessons
GWG = Growing with Grammar
HWT = Handwriting Without Tears
IEW = Institute for Excellence in Writing
LOE = Logic of English
MCT = Michael Clay Thompson
WWE = Writing With Ease
WWS = Writing With Skill
History:
HO = History Odyssey by Pandia Press
SOTW = Story of the World (not secular)
Interdisciplinary/General:
BYL = Build Your Library
GC = Great Courses
KA = Khan Academy
MBTP = Moving Beyond the Page
OM = Oak Meadow
T4L = Time 4 Learning
WTM = Well Trained Mind
Languages:
GSWL = Getting Started with Latin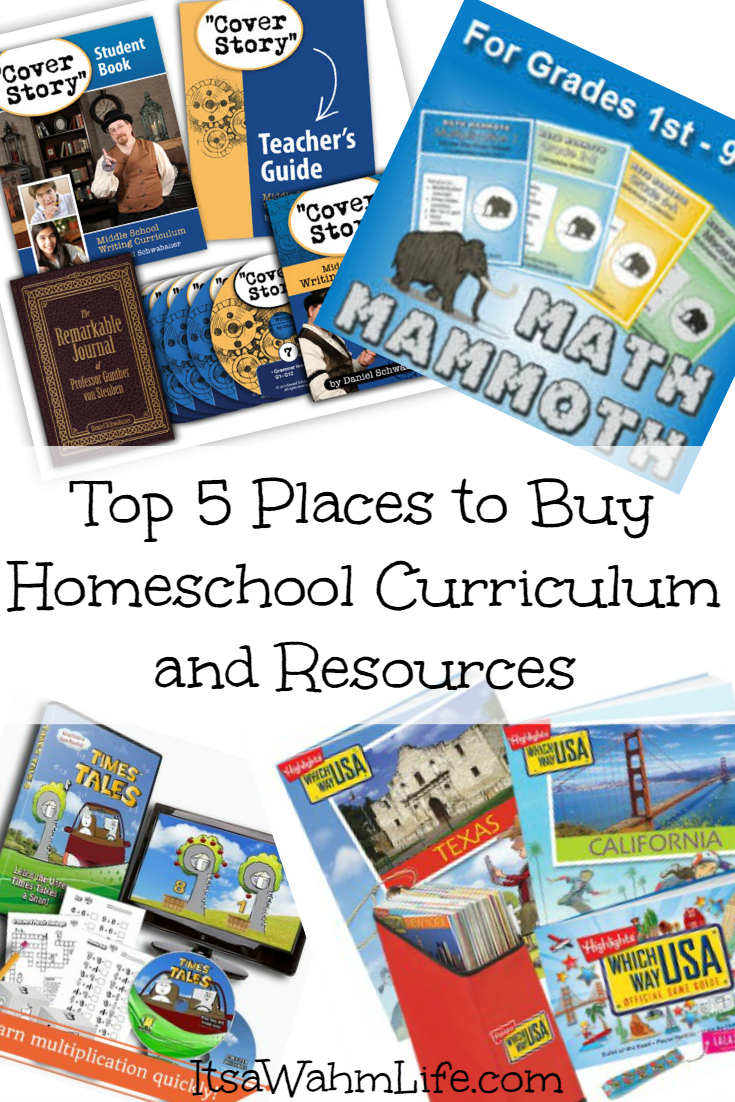 And if you can figure out WHAT is being talked about… the next question is WHERE do you get it, and, and at the best price?
When I first started looking into buying curriculum and products I was confused, and didn't know what sites I could trust. I finally just dove in, and decided to treat it all like an experiment. 🙂 I now have some favorite go to places and I thought I'd share them with you, along with what I like to buy there.
This is one of the places I just didn't understand! But now that I've used it a few times it makes total sense, and yes, it's completely legit. Currclick sells digital homeschool products, by many many well known curriculum providers. You'll usually find these products at a nice discount as well.
I was excited when we finally decided on Intellego Unit Studies to find them on currclick at a lower price than if I'd just purchased straight from Intellego. I like that I can buy them one at a time, which we did to see if we were really going to like them, and if they'd be a good fit for our homeschool. (Some have, some not so much). You can also buy the whole curriculum bundle.
So far we have bought:
They are currently having a huge back to school sale… you can get these Intellego Unit Studies for around $10 each, which is a great price. I'll definitely talk more about these unit studies later, but on to the next place to buy stuff. 🙂
I totally did NOT get this place when I first started looking around, but now I understand. 🙂 Homeschool parents pool together their resources and get better deals on different homeschool items. You can find some amazing deals on this site, thanks to the power of many people joining together.
I have found checking this site BEFORE I purchase anything is a wise move. There have been times when I have bought something only to realize I could have gotten a better deal through the coop. You'll find the coop offers a multitude of popular curriculum at really surprising prices!
Looking at Bravewriter for your writing program? You can save 40% through the coop.
Want to add IXL for a little extra practice? Save 25%. (Wish I'd known this last year when we bought it for extra math practice!) .
Since it is a coop the offers are not always available, so make sure you check and see if they have a current offer before you buy anything! The homeschool buyers coop is free to join, and when you buy products through the coop you also get Smart Points which you can put toward the purchase price of other purchases. (You get 100 free smartpoints just for joining the coop!).
3. Amazon.com
The king of all places to buy things. 🙂 I would be remiss if I left out Amazon. We've picked up a microscope, prepared slides, blank slides and covers, books of all kinds, and even a world map shower curtain from Amazon. If you need it for your homeschool, you can find it at Amazon. If you're an Amazon Prime member you can have it in a quick 2 days. There's also tons of documentaries included in your Amazon Prime membership! (one of our favorite ways to add to our lessons).
4. Educents
This is another website where I couldn't believe the deals when I first found it. Educents offers a pretty incredible range of products, from instructional resources, lapbooks, clipart, lesson plans, games, books, dvds… and so much more.
They make it super easy for a new homeschooling mom to see what's available, by providing "by year" searching. When I go to the 5th grade category I can dive in by topic or check out the most popular products for my kiddo's grade. It is not a completely secular site though, so if you're looking for secular products make sure you do a little digging before you choose.
Some of my favorites from Educents (so far) are Times Tales  (which we LOVE) and Life of Fred (not completely secular… but we're overlooking the tiny bit of religion in some of the younger books). I'm also looking at their Zone Cleaning for Kids (Life Skills plays a big part in our homeschool!)
We looked at The Magic Schoolbus Club (which looked awesome) but I think it was just a little too young for Hanna.
If you need lessons plans or activities, organizers, or just a little motivation you can find it on Teachers Pay Teachers. You'll find tons and tons of amazing resources written and provided by actual teachers. If you're feeling a little lost, just hop on over there and put your subject in the search box, and you'll find yourself with more ideas than you can ever use! (I'm going to talk more about that later too!).
I've looked at a few of the literature interactive notebooks there, and they look amazing!
It can be overwhelming when you are getting started, not knowing what things are, what's good, what's going to work, and where to get it all. I hope these resources will help you get started.
My biggest tip: buy 1 or get a sample or do a free trial if you can before you buy anything! Months ago (before I'd even made a final decision) I jumped in and bought an entire American Girls Literature based unit study curriculum. She offered one study at a time, but, well, yeah. It ended up being a little too young for Hanna, and she's at a place where she's refusing to do anything literature based… so there went that money. I did learn a lesson… buy one first see how it fits. 🙂
What about you? Where is your favorite place to pick up homeschool curriculum and resources? Tell us in the comments… because you don't know what you don't know! Right?!