I saw a pin on pinterest not long ago that inspired me to make this recipe.  I'm not much of a buffalo chicken fan but I did fall in love with the idea of garbage bread.
Last night I decided to give it a try. I had pizza dough in the freezer from the last time we made pizza. (we use more whole wheat flour than the original recipe calls for ~ about 2 cups). So I let it defrost and then set it out for about 20 minutes to come to room temp before we started dinner. You can use store bought pizza crust for this as well… I'd suggest letting it warm up a little before you start though.
What you'll need: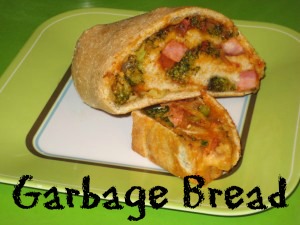 Pizza dough
1 head of broccoli
1/2 onion ~ diced
spoonful of garlic ~ diced
spaghetti or pizza sauce (we used a mix of both from leftover jars in the fridge)
couple handfuls shredded cheese ~ we used fiesta blend ~ it's what we had on hand
cooked ham slice ~ we used half of one ~ how much ham you like is up to you
What you do:
Preheat your oven to 350 degrees.
In a pan with a little olive oil saute the onion and garlic.
When it's clear add the broccoli and ham.
Saute until the broccoli is somewhat soft and the ham browns up a little.
While that's sauteing roll your dough out in a rectangular shape.
Make sure it's fairly thin ~ like 1/4 inch or less.
I rolled mine out to like 12 inches by 8 or 9 inches across.
When you've got your dough rolled out, spread some sauce down the middle.
Make sure you leave room around the edges and ends so it doesn't smush out when you roll it.
When the rest of the ingredients are done spread them out over the top of the sauce, and cover with cheese.
Now you're going to start at one end and roll the whole thing like a log.
About half way through the rolling process, fold the ends up so they'll be sealed in the rest of the roll.
Grease a cookie sheet, and place the roll seam down on the cookie sheet.
Put the garbage bread in the oven and bake for 30 -40 minutes.
It will be golden brown on the outside.
I baked mine for 35 minutes and it was perfectly cooked all the way through. 🙂
This is just one rendition of garbage bread… it's the perfect food for using up the odds and ends in the fridge. You can use any kind of meat, and any veggies ~ as well as whatever cheese you have on hand. Whatever flavor combinations you can come up with, you can do!
I'd love to hear if you try this recipe, or another rendition of it. Send me a Facebook message or let me know in the comments. 🙂