A Reason to Run made it on the recommended list for the word Reason. I finished Breakfast with Buddha, and The Promise of a Pencil and decided to jump into one more book this week. Both the other books I'd read were books that left me thinking, so I decided a "palate cleanser" (a book that is easy, and fun to read) was in order.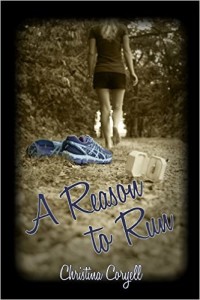 A Reason to Run (Camdyn #1)

by Christina Coryell
on August 12 2014
Genres: Fiction
Format: Ebook
Buy on Amazon (aff link)
Add to a Goodreads Shelf


People are talking about C.W. Oliver, the mysterious author with a book sitting atop the bestseller list. They are also talking about Camdyn Taylor, the pretty blonde from an embarrassing proposal rejection video that has recently gone viral. What would happen if people knew that those two individuals were one and the same?
Camdyn Taylor doesn't like chaos, but it always seems to find her. When it inevitably appears, she does what comes naturally: She runs. That is one of the reasons she finds herself drawn to her ancestor, Willa Lawrence. A young widow with a new baby in the early 1800's, her future and inheritance looked steady. Then, unexpectedly, she ran. With only the most basic necessities, she set off on a journey with her child toward an uncertain future. Camdyn is determined to keep her pen name a secret, and she's almost as determined to discover the reason for Willa's impulsive departure. When she finds herself suddenly thrust into the spotlight after a suitor's ill-advised proposal, she resorts to following Willa's footsteps to Tennessee in order to finish her latest book. Finding herself lost and in need of a little hope, she crosses paths with Cole Parker at just the right moment. She quickly becomes aware that things might never be the same, and while she's focused on unearthing Willa's reason to run…she just might discover her own.
A Reason to Run was a perfect fit. It was just what I needed. I'll be honest, I love my Kindle Unlimited subscription, but when it comes to KU fiction you just never really know. Sometimes it's a hit… and sometimes it's a huge dud. Luckily for me, A Reason to Run was a HIT!
The opening chapter really grabs you, and makes you want to read on. But it's once you get a little further in and meet all the characters that the book really blossoms. The characters are what holds this book together, although the plot line is well formed too. It really is the characters you want to see what's going to happen next.
I don't really read many romance novels, and I wouldn't really call this one a romance novel per se, but it definitely does revolve around the relationship between Camdyn and Cole, but there's so much more to it than that. The role of family, and friends, and love are all addressed and by the end you are routing for Camdyn to come to the realization that you already came to 5 chapters back.
This one left me smiling as I clicked to the last page, and then I smiled even more realizing it was a series! I can't wait to see what happens next!