One of my favorite things to eat is Nutella. One of my favorite websites is Pinterest. Combine the two and I'm in heaven. 🙂
Is it just me… or is it AMAZING when you make something from Pinterest and it comes outat least as good as the picture… if not better?
That's what happened for us today!
Nutella Buns
Similar to cinnamon buns… and the new replacement for them in our family!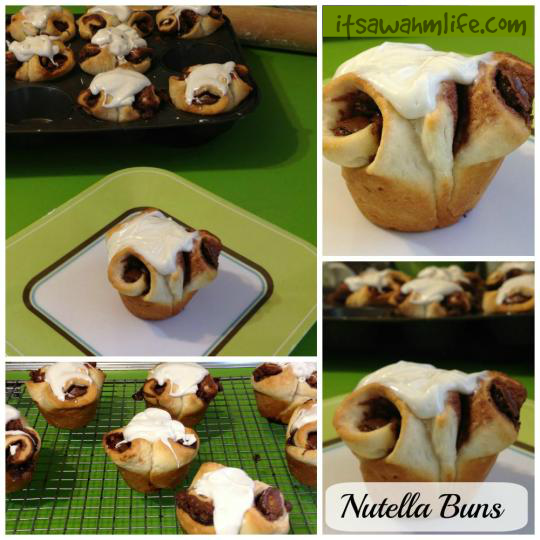 This Nutella bun recipe with a delicious cream cheese icing is so simple, and so delicious. They would be a perfect for Saturday or Sunday morning time in the kitchen with the kiddos. Hanna did most of these, and would have done it all if her mom wasn't such a control freak. 🙂
Let's make Nutella Buns!
What you need: 
For the buns:
1 can of 8 buttermilk biscuits
nutella (or generic chocolate hazelnut spread)
flour and powdered sugar (a tbsp or so of each)
For the ooey gooey cream cheese frosting:
1/2 block of cream cheese (4oz)
1 1/2 C powdered sugar
1 tsp vanilla
1/2 tsp milk (if needed)
What you do: 
Have I mentioned how simple this is?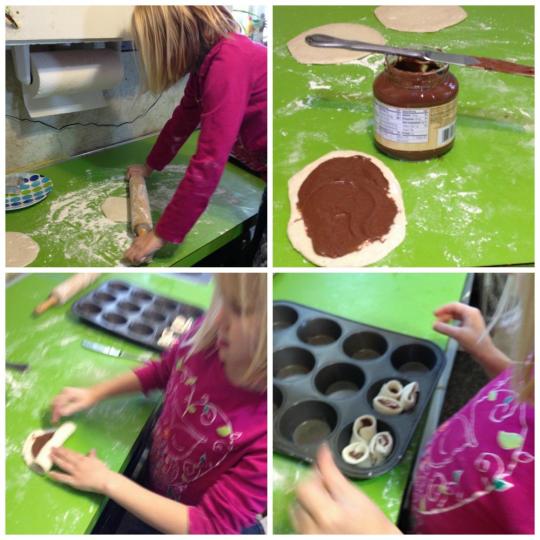 Put a little flour and powdered sugar on your counter. It sweetens up the dough a little and keeps the biscuits from sticking when you roll them out.
Take each biscuit and roll it out thinly, until about twice its original size.
Spread a layer of Nutella over the top of the biscuit.
Roll the biscuit up, and cut it into three pieces.
Put all three pieces inside a lightly greased muffin tin.
Do all 8 biscuits and then bake for 15 minutes in a 350  degree oven.
When they're done let them cool for 5 minutes or so, and drizzle with the cream cheese icing.
To make the icing:
Add 1/2 block of cream cheese to a bowl (make sure it's softened). Add 1 1/2 C of powdered sugar, and a tsp of vanilla… mix until smooth. If it's not thin enough add just a touch of milk to thin it out a little bit. 🙂
Enjoy making your Nutella Buns!