If you remember, at the beginning of the week, I chose The Kindness Diaries to read for the word Reason. I must admit I was once again swayed by the reviews. I don't know if that's a good thing or a bad things. I did want to read a book along the same lines though, and The Promise of a Pencil popped up in the "customers who bought this also bought THIS" section. I read the description, and the reviews, and decided to read this one instead.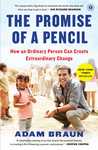 The Promise of a Pencil: How an Ordinary Person Can Create Extraordinary Change

by Adam Braun
Published by Scribner on February 3rd 2015
Genres: Memoir
Pages: 288
Buy on Amazon (aff link)
Add to a Goodreads Shelf


The riveting New York Times bestseller about a young man who built more than 250 schools around the world—and the steps anyone can take to lead a successful and significant life.
Adam Braun began working summers at hedge funds when he was just sixteen years old, sprinting down the path to a successful Wall Street career. But while traveling he met a young boy begging on the streets of India, who after being asked what he wanted most in the world, simply answered, "A pencil." This small request led to a staggering series of events that took Braun backpacking through dozens of countries before eventually leaving a prestigious job to found Pencils of Promise, the organization he started with just $25 that has since built more than 250 schools around the world.
The Promise of a Pencil chronicles Braun's journey to find his calling, as each chapter explains one clear step that every person can take to turn their biggest ambitions into reality. If you feel restless and ready for transition, if you are seeking direction and purpose, this critically acclaimed bestseller is for you. Driven by inspiring stories and shareable insights, this is the book that will give you the tools to make your own life a story worth telling.
*All proceeds from this book will support Pencils of Promise.
And boy am I glad I did! I LOVED this book. If I didn't have other people who live in this house counting on me to you know, feed, and parent them I would have read this in one sitting. As it was, I finished it in two.
So, what is it that made me love this book so much?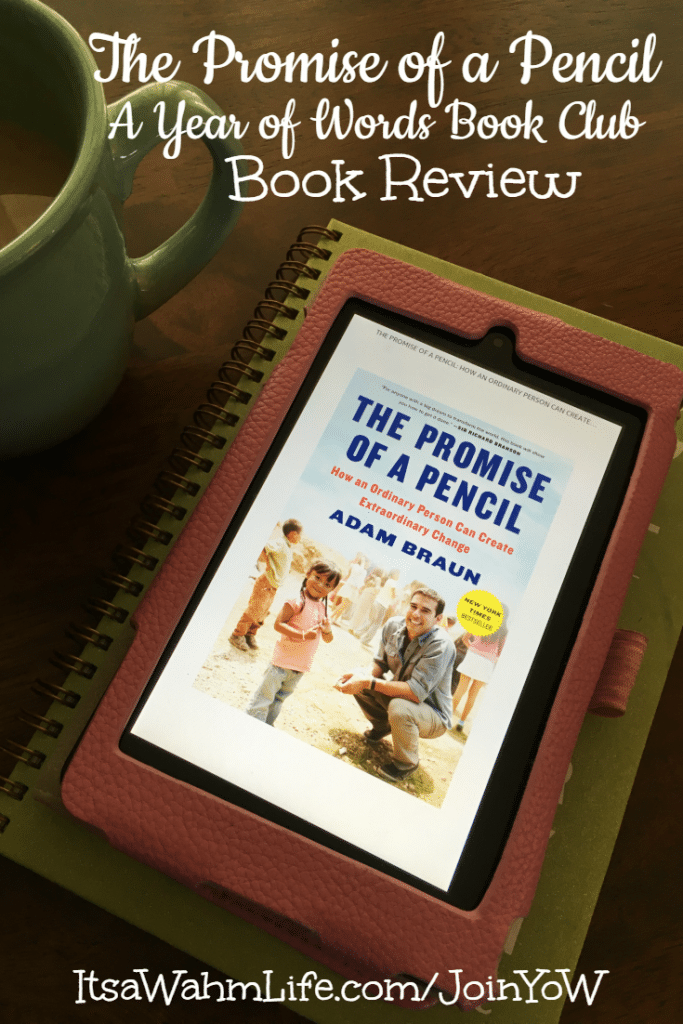 Adam, the person this book is about, was so young!! He was in his early twenties when he was struck with an idea. If I look back at my early twenties, um, yeah, let's not do that. I absolutely adored the fact he was so young, and forward thinking, and ready to make something big happen in the world.
Everyone told him no. He couldn't do it. It was a stupid idea. He was stupid for even thinking it. Stay with your high paying job. Do it later, when you're more stable and older.  And he almost bought it all. Until one person told him everyone had it backwards… when you're older, and more stable you have more responsibility, a family, people depending on you… when you're YOUNG… that's the time to take the risk, do something big, bold, daring. And instead of listening to everyone… he listened to the one, and his heart. That's insanely badass to me. Everyone will tell you not to do it, it's too big, too scary, too ______, to be able to listen to the one who says YES!! Go for it! and your heart… that's something to me.
It all started with one small unreasonable act. $25. From there, it grew and grew and grew one small unreasonable act at a time.
Tweet: The biggest of dreams often start with small unreasonable acts. ~ Adam Braun
Proof that one person can create a change in the world.
The mantras… oh yes, each chapter begins with a mantra. Then shares a story based on something he learned/did relevant to that mantra. The mantras are fantastic, and so true, and provide a perfect outline to do something creative and outrageous in our own lives.
Overall, I loved this book, I think you can tell. I don't often give books 5 stars… because what if a better book comes along? But this one… 5 stars all the way.
If you're an entrepreneur, a dreamer, a wisher, someone who feels like there's got to be something more out there… you need to immediately pick up this book and read it… then start with one unreasonable act. Also if you have a kiddo with an entrepreneurial spirit, I highly recommend this book for them as well.