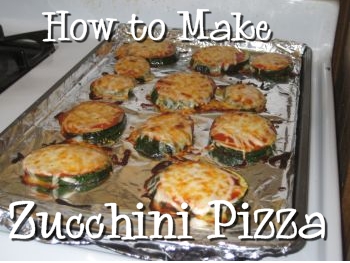 Problem 1. It's the middle of Summer… you're probably inundated with Zucchini at the farmer's market and from your garden. I'm ALWAYS on the lookout for yummy zucchini recipes.
Problem 2. When we make pizza we always have some pizza sauce left over. It sits in the bottom of the bottle and ends up going to waste.
Solution: It's a match made in heaven… zucchini pizza!
This is such an easy recipe and a great lunch for your kiddos (and yourself!)
Grab a large zucchini and slice it. To get a larger surface area for your toppings slice the zucchini on an angle. This is also a great way to use smaller zucchini as well!
Place all the slices in a bowl, toss with a little bit of olive oil and garlic powder.
Heat a skillet on high.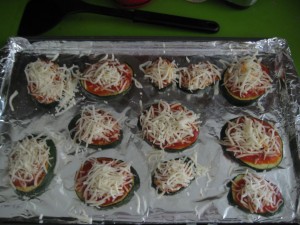 Add your slices ~ cooking only until they are a nice brown on both sides. (a couple minutes a side)
While they're cooking, line a baking sheet with some foil for easy clean up, and preheat your oven to 350.
Once you've browned the zucchini remove from heat and put each slice on the foil lined baking sheet.
Add a bit of sauce to each slice.
Top with cheese.
Place in the oven for 8 minutes or so, and then I crank up the broiler to brown up the cheese. (only for a quick minute, and make sure you keep an eye on it so it doesn't burn up  ~ yes experience speaking there!)
If you don't want to heat up your kitchen, you could do this whole process on the grill as well… grilled zucchini pizza is awesome too!
Let the zucchini pizzas cool for a minute or two and then serve.
[hcshort id="7″]