So last week I picked up this book called Mini Habits: Smaller Habits, Bigger Results. I saw it on a recommended book list. It was on sale, so I bought it on a whim. I sat down to read it, and had some trouble getting into it. There was a lot of science, some repetition, and I have to say a little resistance on my part.
But I kept reading, and as I read, I started seeing the utter brilliance in this idea!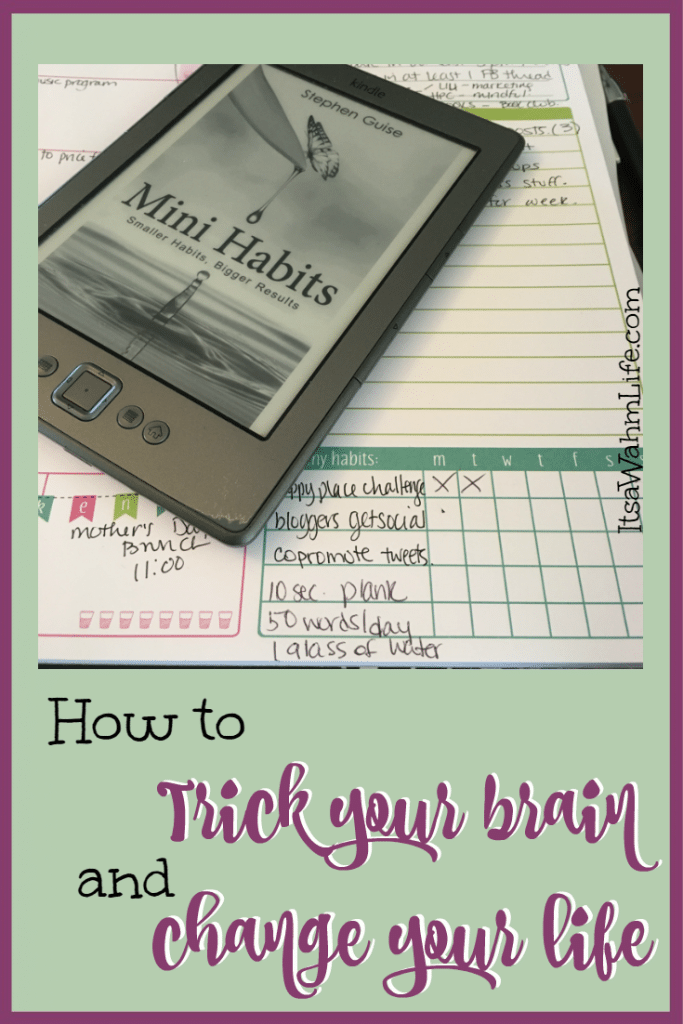 In fact, I realized I'd already started doing this with my goal to find the happy places in my life. I had already started the Happy Place Challenge, which I realized was the start of a mini habit. I simply have to identify and document ONE thing that makes me smile, laugh and/or feel good every day. It's a "stupid small" goal, as Stephen Guise (the author of Mini Habits) calls them. Goals that are so small we think it might be dumb to even bother. That's the part that tricks our brain! Having "stupid small" goals allows us to fly under the radar of the parts of our brains that don't want to change, and that encourage us to RUN back to our comfort zones, instead of busting out and trying something new. Stephen actually does an excellent job of sharing studies, and facts that support this method. (I personally, don't always need the sciencey back story, but for those of you who do, you'll get large doses in this book).
The thing that's awesome about mini habits (and I've already been noticing this with the Happy Place Challenge) is it's a minimum… there's nothing stopping you from doing MORE. You just have to do the "stupid small" thing and you've succeeded for the day. Each success breeds more self confidence, and more energy to complete the small habit the next day as well. But… because it's so small it's easy to "do bonus reps". Once a body is in motion it's just as easy to stay in motion, keep doing the thing you started as it is to stop. The key is to start, and with a stupid small start point, it's pretty hard NOT to start! I mean really… find ONE thing that makes you smile in a day. I would feel pretty lousy if I couldn't manage to do THAT in a day. But I've been finding myself snapping multiple pics a day of happy places, and identifying many things throughout the day that make me feel good. It's a vicious(ly good) cycle!
So after reading the science, and the instructions for setting up a mini habit, I decided on 4 mini habits to work on for the next week, when I will stop and evaluate how things are going (as suggested).
Here's my "stupid small" mini habits:
Identify (and document) 1 happy place every day.
Do 1 10 second plank every day.
Write 50 words every day.
Drink 1 glass of water every day.
So… as I wrote them down I felt a little dumb even doing it. Which means I'm doing it right! I mean, jeez, what's a 10 second plank going to do for me… but that's exactly the point. It's going to create a habit of doing a plank every day… and chances are, once I'm in plank position I will hold it more than 10 seconds… and if I don't that is great too because I've still met my goal for the day.
It was also suggested you WRITE down your mini habit goals, so I've added them to the "daily" section of my new weekly planner. <3 Which is awesome because there's a spot to check off each day I do my mini habit.
And lookie here… I've been struggling to write all week… and with a stupid small goal to JUST write 50 words.. I'm already at 638 and a completed blog post. 🙂 I'll be checking that off momentarily.
So here's what I suggest you do next.
Join the Happy Place Challenge… it's a perfect Mini Habit and will make you feel really good.
Identify your stupid small habits and get started!!