I'm feeling so completely unmotivated today. I have a list a mile long of things that need to be done and I just can't seem to get going! I picked up a copy of How to Have Your Cake and Eat It Too… thinking I could call that work, and just sit down and read. However,  I haven't been able to sit down long enough to read more than a few pages lol.
The last time Hanna came in complaining of being hungry I was just fidgety enough to say "hey let's make something new". 🙂
We use the Kroger brand "chex", which is usually well under 2 dollars a box. YAY! I saw the other day on the box that they have a chex mix recipe ~ for the microwave. I love chex mix… and my mom wouldn't make it very often so it was kind of a special treat. I was seriously worried it was going to be gross coming out of the microwave and I'd waste 7 cups of cereal.
I hopped online (yes, even procrastinating making a snack lol) and read some reviews and while people said the flavor wasn't as deep with the microwave version there were a few people who mentioned it was not soggy at all (which was my concern) so off we went.
Benefit of being a blogger, and taking pictures of everything is this: impromptu snacks mean impromptu kitchen cleaning ~ which was one of the things on my list today. 🙂 yay, I am making progress.
Hanna made most of this recipe… with her relentless "Can I pour it? Can I measure it? Can I do it?"  For the Worcestershire sauce I gave her a smaller bowl to pour into in case there was a big over spill or something ~ it wouldn't ruin the whole thing, but she did great. 🙂
So here's the recipe:
Microwave Chex Mix
1/4 c butter
4 tsp  Worcestershire sauce
1 tsp salt
1 tsp garlic powder
1/2 tsp onion powder
1/4 tsp sugar
7 cups chex (or Kroger bran Rice Bitz 🙂 ~ we used all rice, but you can mix it up if you want
1 cup peanuts
1 cup mini pretzels
1 cup oyster crackers
What you do:
melt the butter in the microwave.  Once melted stir in the seasoning… watch how long it takes to do this because the butter starts to solidify if you have to look all over the kitchen for required spices and then you have a 5 year old measuring and pouring. 😉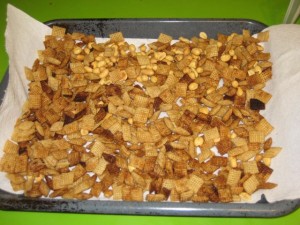 Once the spices are in with the butter mix it all up good to combine all the flavors.
Add the cereal, make sure you start stirring it as soon as it hits the bowl or you'll have some pieces with lots of flavor and some with none. Mix in all the other things and stir it all up to get flavor on all the pieces.
Pop it in the microwave and cook for 5 to 6 minutes. Make sure you take it out and stir it around every 2 minutes. I cooked mine for 5 and 1/2 minutes and some of the pieces were getting a little on the dark brown side…
Once it's cooked (it will be VERY HOT) spread it out on a paper towel to cool ~ which only takes a couple minutes.
Eat and enjoy!
I'll be honest here…  I really only like the cereal bits in chex mix. I added the peanuts because I had them, but as I look at my would be empty bowl all the peanuts are still sitting there… It's just as good without all the extras ~ especially if you just like the cereal. You might want to add in a little more cereal to take the place of all the extras if you don't add them…
Click Below for More: