I chose No Tourists Allowed as my book of the week for the word Worth in the Year of Words Book Club. As I read the description I was pretty confident a story with addiction, and service at the center would get me thinking about "worth" in my life. And I was right.

No Tourists Allowed: Seeking Inner Peace and Sobriety in War-Torn Sudan

by Shannon Egan
Published by Shannon Egan on August 12th 2015
Genres: Memoir
Pages: 234
Buy on Amazon (aff link)
Add to a Goodreads Shelf


For Shannon Egan, what began as a desperate bid to break from her strict religious upbringing and recover her sobriety—via a one-way ticket to Sudan, a country in the midst of genocide and civil war, and, due to Islamic law, seemingly alcohol-free—would evolve into a headlong plunge into the surreal politics of faith: the world of freelance journalism and nonprofit aid in a war zone, where big hearts and big talent compete to tell all the gory details, where children bring guns for class show-and-tell, AIDS-affected proudly proclaim their status, and a black market for hooch is hidden in plain sight.
No Tourists Allowed is a story of self-discovery leading outward. From her fight with alcoholism to the global media system that often puts in jeopardy the lives it wants to protect, Shannon sings of despair and celebration, relapse and recovery, and learning, finally, to love the unlovely.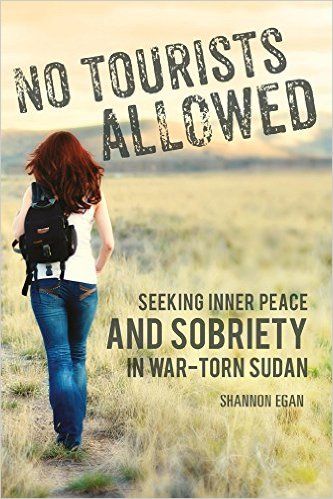 I was moved by this story. Shannon is an excellent writer, and story teller. I was pulled in to her experiences, and could see, and more importantly feel what she was going through as she lived in Sudan. I frequently found myself holding my breath, hoping for her safety, both physically and mentally.
Shannon goes through an enormous journey in this book, not only living and working in Sudan, but almost more importantly a journey of finding her worth in her life. It's amazing the impact the things we're told about ourselves early in life can have. I also found it really interesting how personally she took the things she experienced in her childhood, around her desire to find spirituality in ways other than the Mormon church. She internalized the messages she received  and very nearly self destructed. When we have early messages laced with fire and brimstone it's easy to see how they can decrease one's sense of self worth.
I was really pleased she had the courage to break away, and take on an adventure that would ultimately help her learn her worth, and heal many of her wounds.
The only complaint I have about this book is at times it jumps to the future, in ways that didn't necessarily make sense to me, or didn't really flow with the story that was being told. It was definitely something I could overlook, because it would come back to the current part of the story, and be almost like you hadn't left.
An excellent book for the word "worth", and a moving story of a woman who could have lost her life, and her spirit, but instead chose to make an extraordinary decision, and in the process was able to learn and grow, and heal.