When I first started weight watchers, I was completely overwhelmed. I had this crazy notion I had to think of tons and tons of things to eat. I have a terrible time with remembering to eat lunch as it is, so trying to come up with a new lunch idea every day about did me in.
Then one day I was reading a blog and she gave this incredible tip: (I'm paraphrasing here)
Pick a couple things you like to eat and eat them over and over again.
Phew. What a relief.
This advice is great for breakfast and lunch! I am also creating a 30 day rotation for dinner so we can eat the things we really like, but have a good amount of variety as well. My family has a little harder time with eating the same thing over and over. 😉 So, this ham and cheese on cucumbers has become my "go to" lunch. It's filling, flavorful and easy to make. One other thing I love is that it's real cheese. I'm willing to take the point hit to have real cheese. 🙂
Ham and Swiss on Cucumbers 
Weight Watchers 7 points+
What you need: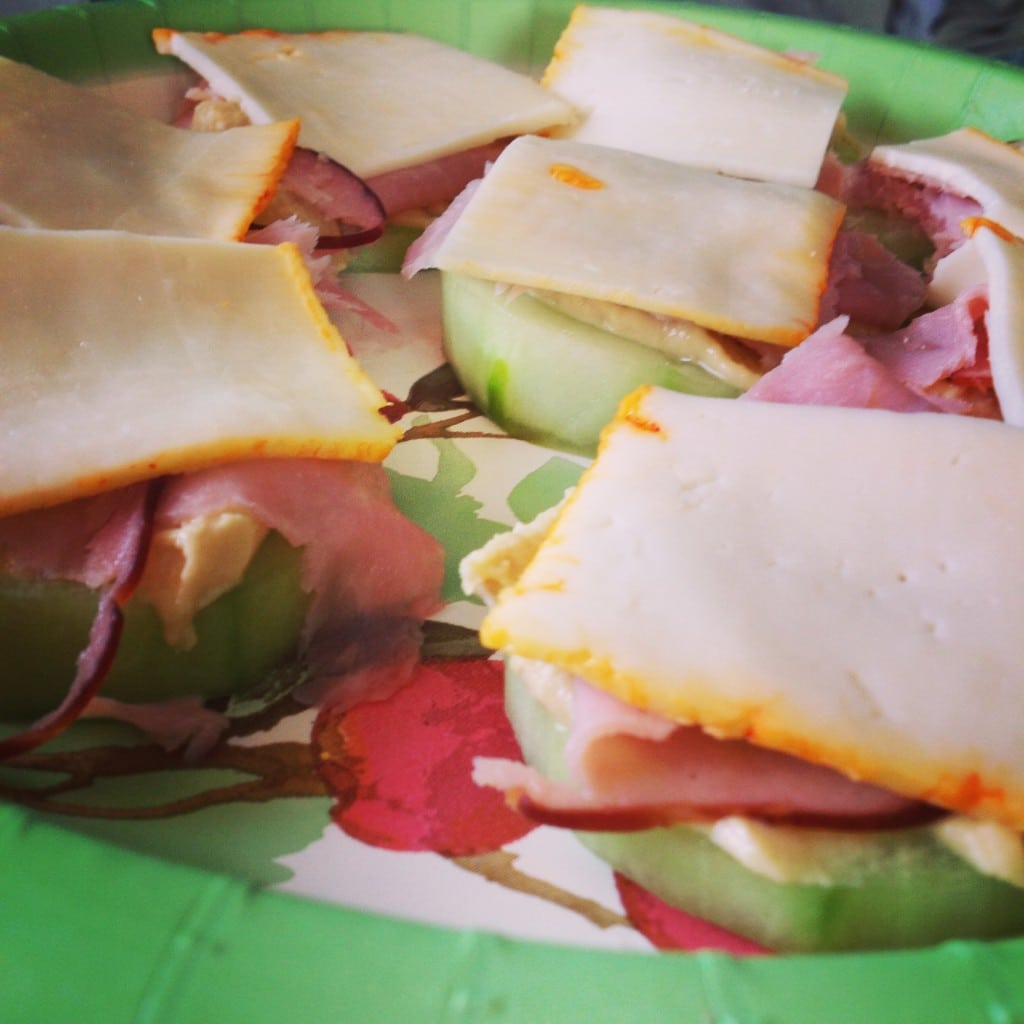 2 tbsp hummus
2 oz deli ham (I use sara lee honey ham.)
2 slices swiss cheese (muenster is also really good with this)
8 cucumber rounds (peeled or not depending how you like it)
What you do:
Spread a little hummus on each cucumber round. Top with a piece of ham. Cut your 2 slices of cheese into quarters. Top each cucumber round with a piece of cheese. Viola. That's it. So quick, easy and delicious!
** I use Sabra hummus. The app says Sabra is 2 pp, whereas it shows "hummus" as only 1 point. So if you're not using Sabra check the app and see what your hummus is worth. Also, you can use turkey for 1 less point as well.
Enjoy your lunch!