I picked this book up for my daughter for her 10th birthday. She's been in a reading rut, and I wanted to throw something she might now otherwise choose into the mix. I'm a fan of John Grisham's adult novels, and was kind of excited to read this one, to see how it stacked up.

Theodore Boone, Kid Lawyer (Theodore Boone, #1)

by John Grisham
Published by Dutton Books for Young Readers on May 25th 2010
Genres: Middle Grade
Pages: 272
Buy on Amazon (aff link)
Add to a Goodreads Shelf


A perfect murder. A faceless witness. A lone courtroom champion knows the whole truth . . . and he's only thirteen years old. Meet Theodore BooneIn the small city of Strattenburg, there are many lawyers, and though he's only thirteen years old, Theo Boone thinks he's one of them. Theo knows every judge, policeman, court clerk—and a lot about the law. He dreams of being a great trial lawyer, of a life in the courtroom.
But Theo finds himself in court much sooner than expected. Because he knows so much—maybe too much—he is suddenly dragged into the middle of a sensational murder trial. A cold-blooded killer is about to go free, and only Theo knows the truth.
The stakes are high, but Theo won't stop until justice is served.
Brimming with the intrigue and suspense that made John Grisham a #1 international bestseller and the undisputed master of the legal thriller, Theodore Boone: Kid Lawyer will keep readers guessing and pages turning.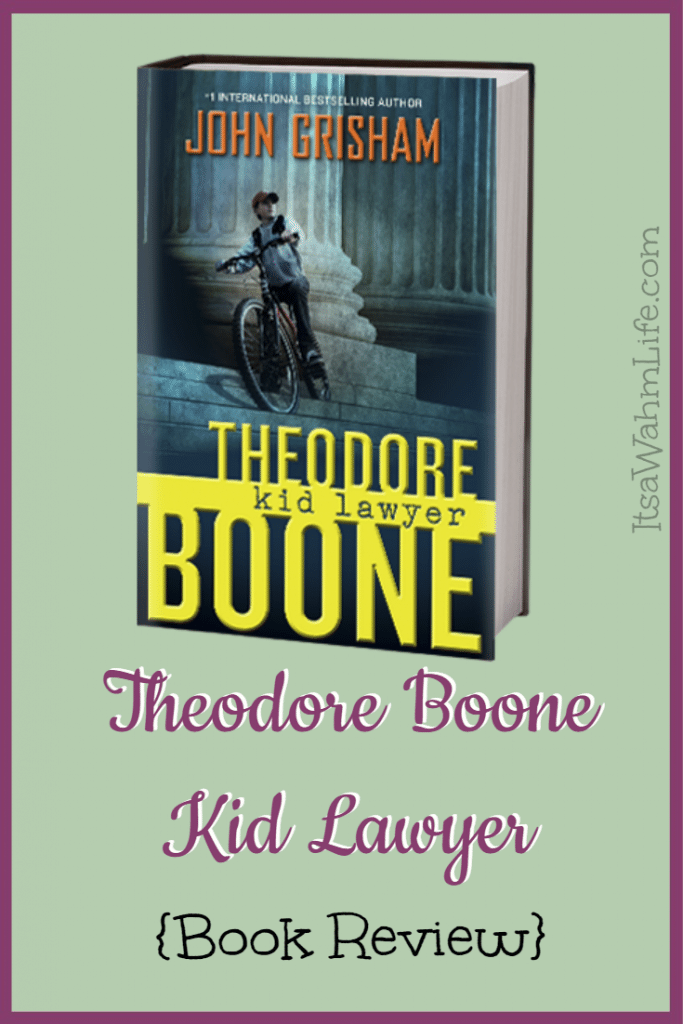 I don't always pre-read Hanna's books, but I'm really glad I read this one. Because it was so good. 🙂 There was so much, as an adult, I liked about this book, and now I will actively encourage her to start reading it.
There was so much really accurate information about the legal system in this book. I particularly liked how Grisham dispelled myths perpetrated in so many legal TV shows, especially about the "surprise witness". He does a great job of pulling in the actual law about surprise witnesses, and what really happens without it being boring, or over kid's heads.
The idea that doing the right thing, even if it's hard is a key theme in the book. It's also not done in a goody-two-shoes, bang you over the head with it way. It's a theme that makes perfect sense in the context of the story, and in who this young man is and wants to become. There is a lot of subtext about character, and being a good person, even when you aren't necessarily compensated for it. This is a book that could open up a lot of constructive dialogue in this area with your kiddo.
The idea that being a smart kid is a good thing is also another really great theme in this book. It is also done in a very elegant way. Theo is a smart, smart kid, and because he has skills and knowledge the other kids don't, they come to him for help, they respect him, they look up to him. Even his teachers show him a lot of outward respect in front of students. I think this is a message that needs repeated, and often in this day and age.
All in all this felt totally like a Grisham book. It was captivating, there was action, and suspense, and mystery, and intrigue… and it was all completely age appropriate. I never once cringed a little wondering if I really wanted my 10 year old to read this. So thank you Mr. Grisham. I appreciate that more than you know.
I highly recommend Theodore Boone Kid Lawyer by John Grisham, now let's just see if I can get my kiddo to read it, and then the rest of the series… you know, so I can read them too. 🙂