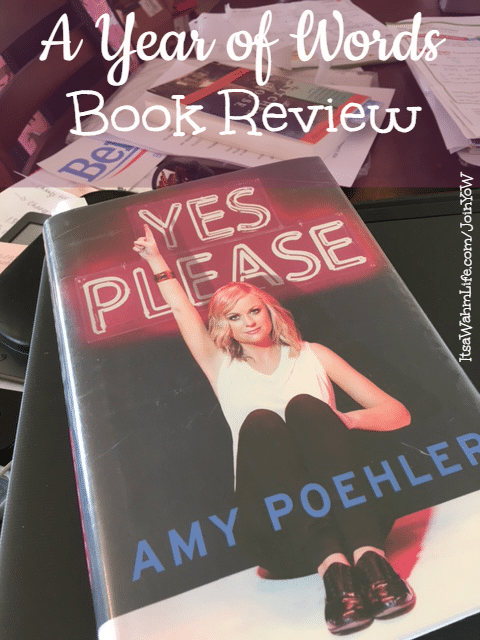 When I picked up my copy of Yes Please from the library I didn't really know what to expect. The powerful cover made me hopeful, but you just never know what you're going to get when you read a memoir written by a professional comedian. Sometimes it seems a little forced, a little trite, like they're trying too hard to prove they really are funny and it's not all the writer's handy work.
This book could not be further from that. I am literally kicking myself for not having read it sooner.
A few words (since this is the year of words and all) I'd use to describe this book:
Real. Funny. Down to Earth. Friendly. Wonderful. Readable. I wanna be best friends with Amy Poehler except I don't think I'm extroverted enough to keep up with her shenanigans (wait that's more than one word).
Anyway… this book was fantastic. We've had a long hard week. It's Spring Break week, and it was supposed to be fun, but Hanna was out of school sick all last week, so she had all the school work to do, and some other obligations that were making me feel pressured, and well quite frankly a little insanely crabby. In the midst of it all, Yes Please was a delightful escape.
Amy Poehler is the most real, down to Earth, I wish we were friends, famous person I've ever read. Her insights were on the money. Her tone was casual and friendly. It was literally like we were sitting around drinking coffer (or wine) and chatting like girlfriends.
The Time Travel chapter was an actual GIFT. There was nothing in this week that I needed to read more. Here's just one little nugget I took from this chapter:
You can control time. You can stop it or stretch it or loop it around. You can travel back and forth by living in the moment and paying attention. Time can be your bitch if you just let go of the "next" and the "before".
Amy is an articulate and interesting story teller, each story, chapter, essay weaved together with a thread that runs through each. All in all, this was a delightful book to read, and I was forced, multiple times in my journey through it,  by the sheer power of the words, to stop and write things down, sentences, thoughts, aha moments.
I love that.
I don't remember reading a book, in a long time, where I wanted to sit down and write the author a thank you note, this is one of them. So, though she probably won't see it, Thank you Amy Poehler. I know writing a book is hard. Thank you for putting in the work. 😉 (Read the book… you'll understand.)