The end of the school year is quickly approaching, yes, we get out of school incredibly early here.. the middle of May. I've been thinking of some unique gifts we can give Hanna's teacher to say thank you for a wonderful second grade year. We gave her this soup in a jar for Christmas… and it would also be a great end of year gift as well. When I start thinking about giving teachers gifts I always wonder if they really want them and enjoy them or does it get to be too much… 22 mugs and no room on the desk? I did a little looking and found these handy tips to consider when choosing an end of the year gift for your teacher.
Gifts in A Jar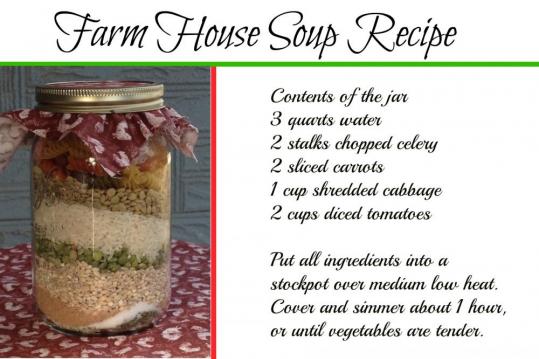 Ingredients:
2 tablespoons dried minced onion
2 tablespoons dried parsley flakes
2 teaspoons salt
2 tablespoons beef bouillon granules
1/2 cup quick cook barley
1/2 cup dried split peas
1/2 cup rice, uncooked, do not use instant
1/2 cup dry lentils
1 cup flavored spiral, macaroni, uncooked
To create your beautiful soup in a jar, simply go down the list of ingredients, gently pouring them into the bottom of the jar. Using a funnel may help with some of the bigger items.
Once you've got all the ingredients in the jar, you can dress it up by putting a piece of cloth on the seal, and then screw on the lid.
Then print out the cooking instructions, punch a hole through them and tie them to the jar. In case you just want to do your own instructions… here they are:
Contents of jar
3 quarts water
2 stalks chopped celery,
2 sliced carrots
1 cup shredded cabbage
2 cups diced tomatoes
Put all ingredients into a stockpot over medium low heat. Cover and simmer about 1 hour, or until vegetables are tender.
You can also print out the recipe card image in this post… it looks great when glued to a piece of colorful construction paper. 🙂
Whirley Pop
When we gave her this gift for Christmas we got to talking and she mentioned how much she likes popcorn. I'm thinking for the end of the year I'll put together a mason jar of popcorn and get her a whirley pop. We have one and absolutely love it… it's a perfect gift for someone who loves to make popcorn at home.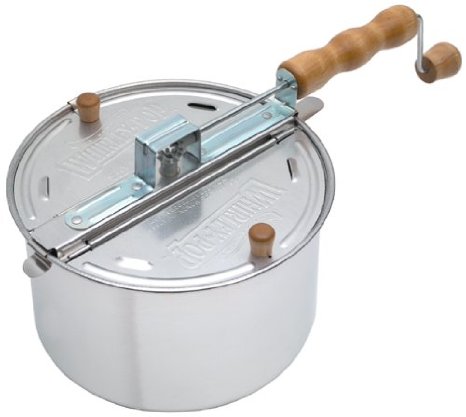 We've had a great second grade year and I didn't want to give yet another coffee mug… so I'm hoping this unique gift will be a perfect end of the year gift for her teacher.
Update:
Well, I originally wrote this post at the end of LAST year…  now we're ending our 3rd grade year, and Pinterest is alive and well. I must admit I dropped the ball when it comes to being creative with our end of the year gift for Hanna's teacher this year. In fact, I completely forgot. I happened to have a wonderful candle I'd purchased from a school fundraiser and used that in a pinch.
I feel terrible though… and so I tortured myself looking through Pinterest to see what I COULD have done. I'm going to share it here for you (because you're kids probably don't get out as early as mine, and you still have time to do something cute!).
Summer Fun Drink Dispenser:
I love this idea from The Family Historian. A colorful drink dispenser filled with things the teacher can use over the summer. I think this is a great gift because it's so practical, and it's not something that she's going to be expected to keep on her desk… she can actually use it.
7 Gift Card Ideas (With Free Printables):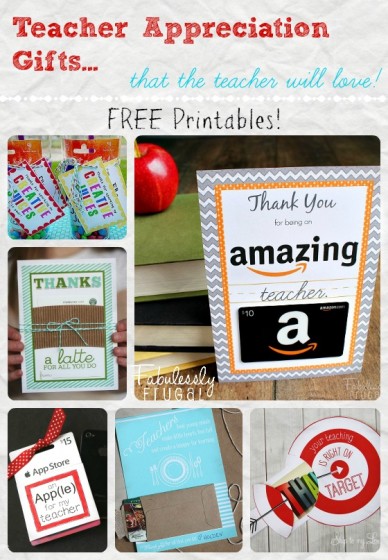 Sometimes it is easiest to just grab a gift card. It's not the most inspired gift, or the most original gift, but in a pinch it works. You can turn this plain old gift cards into memorable, even adorable end of the year gifts for your favorite teacher with these adorable printables. Whether your teacher loves her coffee or her books, you'll find a way to jazz it up with the ideas over at Fabulessly Frugal.
15 Fun, Original and Inexpensive Gift Ideas for Your Teacher: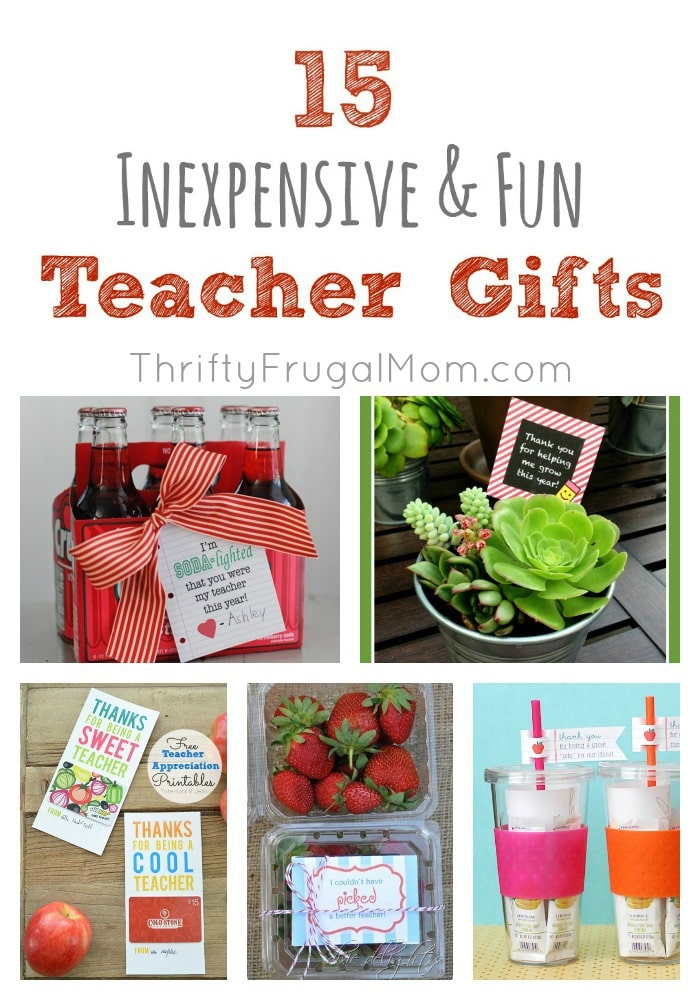 I don't know how people come up with these things… but I love them. The puns are wonderful. All the gifts shared by Thrifty Frugal Mom are just that, smart, fun, and inexpensive, with printable tags to pull the gift together and gift it that fun edge. My favorite is the little plant… thanks for helping me grow this year. How fun is that?!
101 Quick and Easy Gift Ideas for Your Teacher:

If you're still at a loss, haven't quite found what you're looking for you'll definitely find it in this amazing round up of the most inspired gifts for your teacher. Again, the creative genius of people never ceases to amaze me, and I'm just grateful for the internet (and Pinterest) so I can let go of the guilt of never coming up with these amazing ideas and I can just use them. 🙂
There you go… 126 Amazing end of the year gift ideas for your teacher. If you've got one you love, please share it in the comments! Maybe next year I will get my act together. 😉
And… just in case you don't have time (or energy) to make a gift for your kiddo's teachers, here's some ideas from Amazon. (With Prime it could be at your house in 2 days) 😉