I am a HUGE fan of Jonathan Kellerman's "Alex Delaware" novels. He publishes about one a year, and the only bad thing about finding and reading them right after they're published is you have to wait a whole year for the next one. It's a little bittersweet that I found Breakdown on the "new book" shelf of the library only a couple months after it was published.

Breakdown (Alex Delaware #31)

by Jonathan Kellerman
Published by Ballantine Books on February 2nd 2016
Genres: Fiction
Pages: 350
Buy on Amazon (aff link)
Add to a Goodreads Shelf


In #1 New York Times bestselling author Jonathan Kellerman's thrilling new blockbuster Alex Delaware and Milo Sturgis investigate the murder of a Hollywood actress pushed to the limits of sanity.
Psychologist sleuth Alex Delaware is surprised to get the call when well-known TV actress Zelda Chase turns up half-naked, half-mad in the LA's rural Westside. He has little connection to the starlet, save a psychiatric evaluation he performed on her adopted son several years ago, a child who has since vanished without a trace and whom Zelda refuses to talk about. When the actress turns up dead a few weeks later without a scratch on her, Delaware calls in police lieutenant Milo Sturgis to help him crack the case—or at least the wall of silence surrounding it. When the body of a second actress turns up with the same mysterious cause of death, Delaware and Sturgis start to wonder—is this a copycat case or a coincidence? When they uncover the death of another actress, a star from another era who vanished decades ago, never to be found, they realize they're facing one of their most baffling, mind-bending cases yet.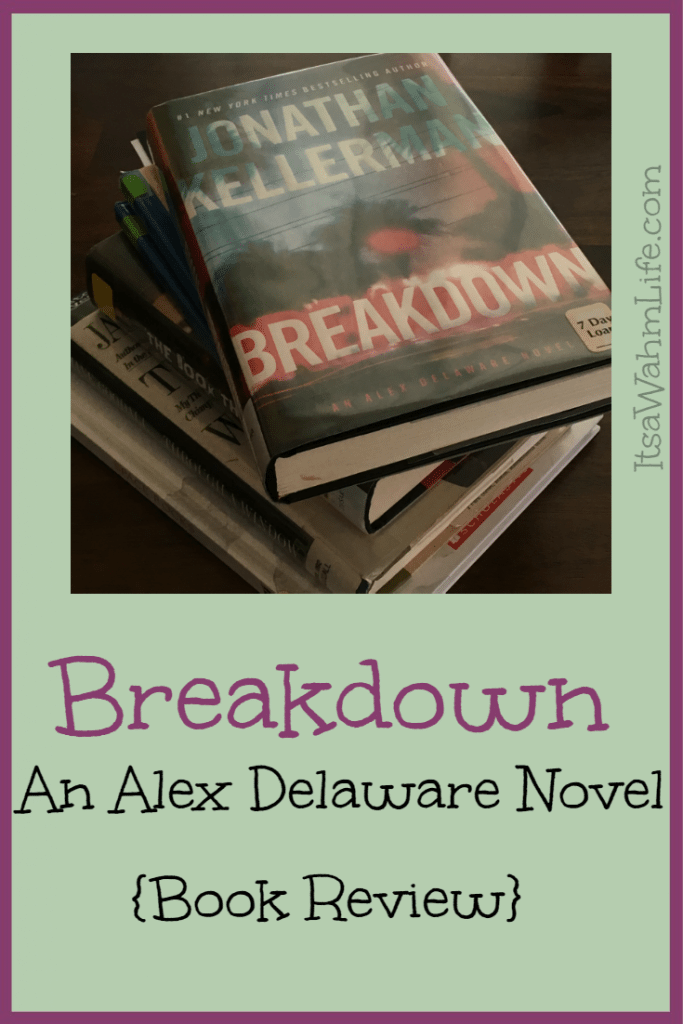 I love meeting familiar characters at the onset of a book. Which is one of the big reasons I love the Alex Delaware series. I've known the characters for YEARS (literally!! Jonathan Kellerman has been publishing this series since 1985. Granted I didn't start reading them then, but I have read them all. 😉 ) It's funny, the last Kellerman book I read wasn't part of this series and I spent the whole book wondering when my favorite folks were going to show up lol. This book opens with unfamiliar characters, and I must say I did check the cover to make sure it was an Alex Delaware novel. 😉
But at the beginning of the second chapter Dr. Delaware makes his appearance, and the game is on. I love these books because they are filled with psychology, and mystery and intrigue. It's really the psychological elements that I like the best though. Thinking about the characters and events through the lens of psychology and why they are doing what they're doing is always an enjoyable adventure for me.
Each book in the series introduces us to a new case, which means new characters. The characters are always interesting, and well developed. Kellerman does an excellent job of character development. You always care, and are flipping pages to find out what's happened, how and why. The new characters rarely make it out of the book alive, but that's because they are the reason the book exists, it is their story being told. Even when they die in the first chapter, you end up incredibly acquainted with them, who they were, and the lives they led.
The old favorites, including Dr. Delaware's girlfriend Robin, his best friend and LAPD Lieutenant Milo Sturgis again make an appearance. As they appear in the book you're happy to see old friends again. However, if this is the first book in the series that you're reading, it will be ok too. Kellerman provides enough background and character information for you to get to know them and grow to consider them friends.
Breakdown, like other books in the Alex Delaware series is twisty and turny, and the last chapter will have you turning pages to put all the pieces together, and does not disappoint with a completely unexpected twist at the end.
If you're looking for a great summer read, I highly recommend Breakdown by Jonathan Kellerman, and now I'm going to be waiting for a whole year for the next installment. 🙁
If you'd rather start at the beginning… here's the first 8 in the series. That should keep you busy for a while. 🙂