As a homeschooling family, it's not just my daughter who does the learning. We all have projects we're working on. This Summer my husband dug deep into learning how to catch catfish, not just one catfish a night, but how to go out, and catch your limit daily. It's been quite a Summer… but he's getting there. Thank goodness we all love to eat catfish.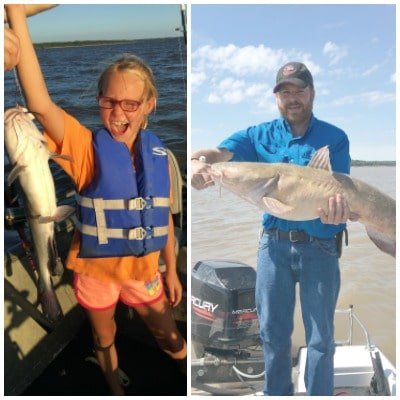 We've been mostly deep frying our catfish, with this amazing deep fryer. However, last week when we went crystal digging at the Great Salt Plains I somehow managed to leave the cord to the deep fryer behind. 🙁 Sigh. We still had a defrosted bag of catfish in the fridge so I scrambled around looking for another delicious way to use our catfish.
Catfish Stew. That's what I found. The recipe I found was actually a catfish etouffee recipe, but it felt a little more like cajun catfish stew to me! This is a pretty simple recipe once you get past the roux.
What is a roux?
A roux is a mixture of fat and flour used to thicken and flavor sauces and stews. The recipe I found called for roux, but it didn't tell me how to make it, and I had an idea, but wanted to be sure.
So we turned to our good friend Alton Brown. I remembered the Gravy Confidential episode of Good Eats we'd watched talked about making a roux. Come to find out there is actually a whole episode called Bowl a Bayou, about cajun food that is filled with information about making a roux.
How to Make a Roux.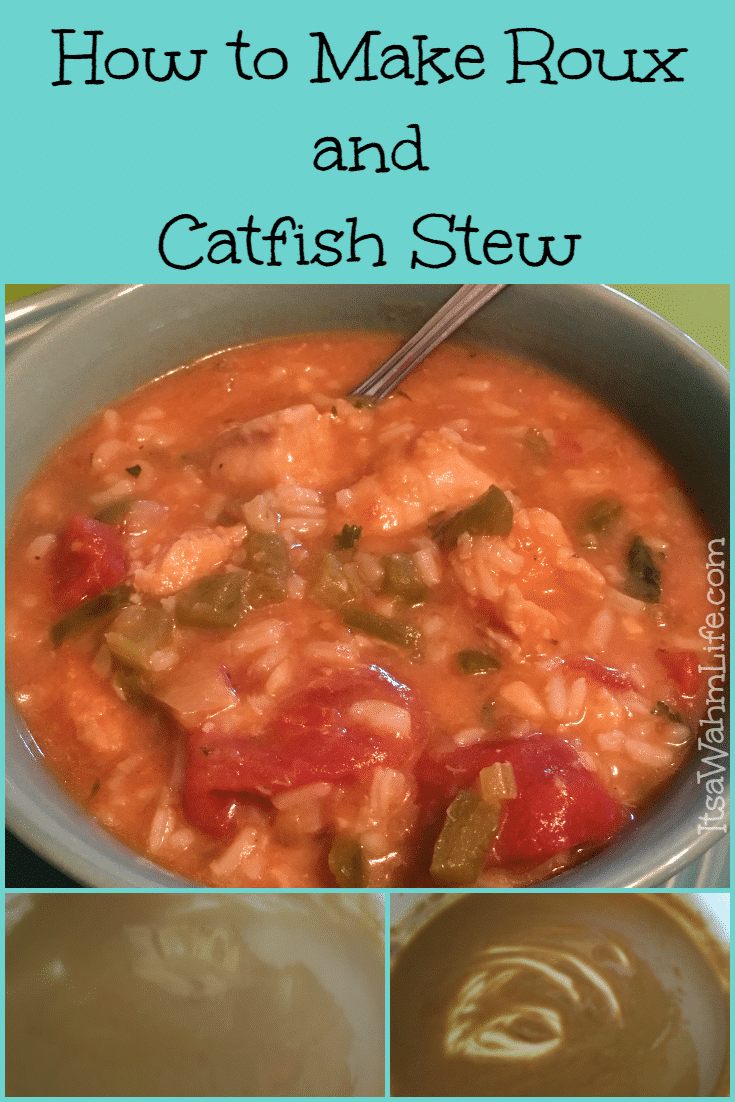 A roux is easy enough to make, but takes a LONG time to get it to the right level of doneness. There is a scale of roux actually. There's white, brown, brick, and black. (Hint: black is ruined, and you have to throw it away and start over). My recipe called for a brown roux, and Alton showed us how to make a brick roux, so I just shortened the cooking time and ended up with a perfect brown roux.
There are two ways you can make a roux. You can do it on the stove, where you combine equal parts of the fat and flour and stand there and whisk, and whisk, and whisk, and whisk for 45 mins to an hour and a half, depending on the color of roux you're making, or you can do it in the oven. This is the method Alton Brown suggests, and that's what we did!
Equal parts fat and flour (make sure the flour is equal by weight, not volume). Stir it up, and stick it in a 350 degree oven. 45 minutes was about perfect for our brown roux. We went in and stirred every 15 to 20 minutes.
Making a roux on the stove can be difficult, but in the oven, easy peasy. I definitely suggest the oven method if you're new to making a roux, and want it to come out perfectly, with a little less effort.
Side note: I love Good Eats!! We learned all about how the first cajuns ended up in Louisiana. Where they came from, the differences between Cajun and creole, and so much more… including how to make a roux. All from one 21 minute episode! There are also Good Eats books, where they give you all the information from the episodes in book format! Love it!! You can find all the Good Eats episodes and books on Amazon.
Catfish Stew Recipe
Once you've got your roux made, this catfish stew is super simple (and delicious).
What you need:
1/4 c vegetable oil
2 oz all purpose flour
2 cups cooked rice
1 onion (diced)
2 stalks of celery (diced)
1/2 c green pepper (diced)
2 cans diced tomatoes
5 cloves diced garlic
2 cups beef broth
1 tbsp lemon juice
1 tbsp worcestershire sauce
1 bay leaf
1 tsp pepper
1/4 tsp thyme
2 tsp salt
2 lbs catfish cut into small chunks
1/4 c fresh parsley (chopped small)
red pepper flakes (optional)
What you do:
Make your roux. I used 1/4 c of vegetable oil, and 2 oz of all purpose flour. Again, mix the two in an oven proof container. (I used my dutch oven) and then put it in the oven on 350 for 45 minutes, check and stir every 15 to 20 minutes, until it's a golden brown color and nutty smelling.
Cook your rice. You can use any enriched rice. I used minute rice, in the microwave, with my microwave rice cooker. (I'm horrible at cooking rice on the stove for some reason, but it always comes out perfectly with this cooker in the microwave!).
Once your roux is finished add your diced onion, celery, green pepper, garlic to the pot your roux is in and cook for around 5-7 minutes. You want to give the veggies time to soften up.
Stir in (slowly, while whisking) your broth. Make sure it is well mixed.
Add your tomatoes, and season with lemon juice, worcestershire sauce, bay leaf, pepper, thyme and salt.
Reduce your heat to low and simmer for 30 minutes or so, making sure to stir once in a while.
After 30 minutes stir in your catfish chunks. Stir them into the liquid, and raise your heat to medium. Then add the parsley as well. Put the lid partially on the pot and let it cook for 10 minutes. You want the fish to be cooked through and easily flake, but not overcooked.
After 10 minutes, add the rice to the pot and stir.
Serve and enjoy!