I am a HUGE, I mean HUGE fan of one pot pastas. Since I found the idea, tried it, and realized I wouldn't come out with a huge clump of stuck together pasta, I've been on the hunt for new recipes. 🙂 I found this great list of 6 one pot pasta recipes yesterday and decided to test out a version of the One Pot Peanut Pasta they shared.
I didn't have a few ingredients called for in the original recipe, and the hubs refuses food with no meat, so I had to wing it a little bit.
One Pot Thai Chicken Peanut Pasta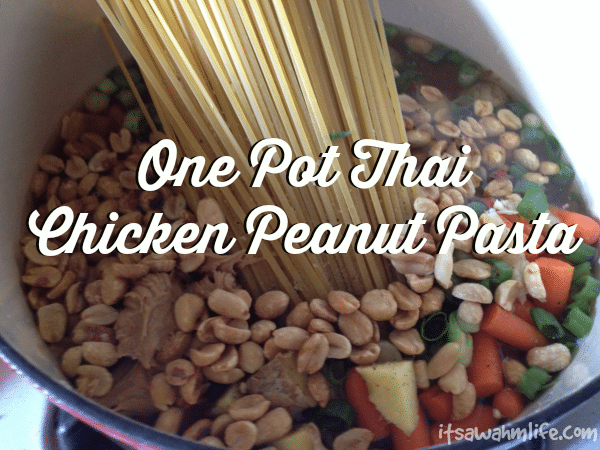 What you need: 
1 lb pasta (we used linguini)
5 cups chicken broth (or 4 cups broth and 1 cup water)
2 green onions diced
baby carrots cut in half
red pepper diced
a small squirt of siracha (depending how much heat you like)
2 inches of ginger quartered (you can leave the peel on, you'll remove before serving)
2 cloves garlic finely diced
1 cup roasted salted peanuts
2 tbsp peanut butter
1 tbsp soy sauce
1-2 cups cooked diced chicken (I used a rotisserie chicken from the store)
lime juice
cilantro finely diced (optional but really added to the flavor)
What you do:
So… (oh I love how easy this is!) add your liquid, and all the ingredients to a pot. (minus the lime juice, cilantro and chicken)
Bring to a boil, stir.
Lower heat and let simmer for 10 more minutes, stirring every couple minutes, to mix the pasta in the liquid on the bottom, until the pasta is done to your liking.
Fish out the ginger chunks and discard.
Add chicken in the last 5 minutes or so to let it heat up.
Once it's cooked add a couple good squeezes of lime juice, and the cilantro.
Stir well, and serve. 🙂