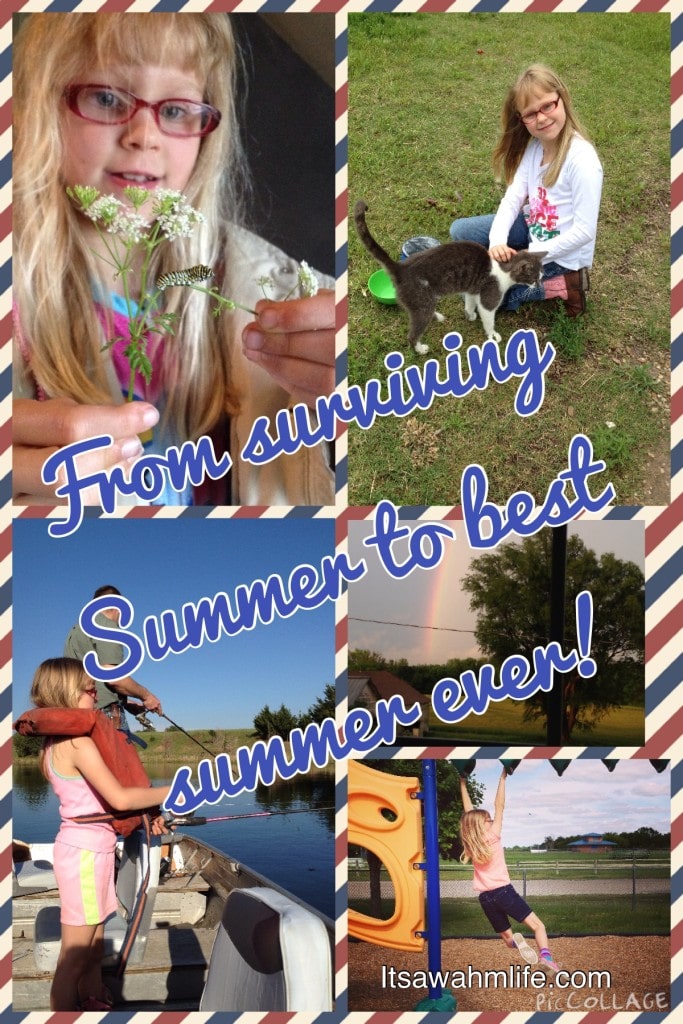 Have I mentioned lately, I'm a control freak? I am. Although, I will admit I've been working on this quite a bit over the last few years and have ratcheted down the control freakness quite a few notches. 🙂
I used to dread Summer break. Hours and hours and hours of heat, and constant whining… I'm bored! I counted the days down until school started again. I would get so frustrated trying to keep up with my blog, and the house, and keeping Miss Hanna entertained.
I searched the internet extensively trying to find "summer survival guides", and ideas to fill the days. This one is excellent. I found it a few years ago and have pulled it out every Summer since I bought it. 🙂
Then last year, I decided to blog less and live more.
We had the best Summer ever. The days flowed. We did fun things. I didn't feel as pressured. That experience has really stayed with me since last Summer. I'm still blogging, in fact, last Summer really set me off on a new path and I even created a new blog. My whole lifestyle has been a little more laid back.
Little things, like dinner running late, or getting Hanna to bed late (a little or a lot) used to send me into a tailspin, cause tons of anxiety, and throw me into crazy person mode. (which wasn't pretty for anyone involved).
Which brings us to today… to this Summer. Today is the end of the first full week of Summer break here. It's been raining non stop. It's chilly and overcast. And we've had an amazing week.
I've worked, cleaned the house, and we've had so much fun.
We've gone fishing in the new boat. (Spent an entire day, driving through floods to get the boat).
  We've had a riding lesson.
We've found a caterpillar and learned all about the life cycle, and are taking care of it, hoping we end up with a Black Swallowtail.
In the process we learned all about the Poison Hemlock we have all over the property. We've made friends with 2 new cats who've shown up on the property.
Caught and released an Alligator Snapping Turtle.
I've read 3 books. (You can find the reviews here, here and here)
And it's been the most relaxing and fun week I've had in a long time.
You see, when I managed to let go of what I thought things "should" be. When I stopped trying to force life into my schedule, and into my "story" of how things should go/be/do, it all changed.
You see… we've done a lot this week.
We also haven't eaten dinner until after 8pm every night.
Hanna hasn't gone to bed anywhere near her bedtime any night this week.
I've worked in the afternoon instead of in the morning some days.
All of these things would have driven me CRAZY, literally induced an anxiety attack before.
I used to feel if I didn't "control everything" bad things would happen. Turns out, even when I "controlled everything" bad things still happened. My kiddo still threw fits, had meltdowns, dinner was sometimes late (or burned), a dog got hit by a car, cats disappeared. I realized though, none of those things made me a bad person or a bad mom. Here's the truth: I have no control over anything, and neither do you… things happen. I've also come to see it's not what happens to you, but how you handle what comes your way that creates the kind of life you want to live. When I was trying to control everything the only thing I gained was anxiety, anger, frustration, and unhappiness.
So, instead of trying to survive summer this year, I'm going with the flow. I'm going to breathe deeply. Meditate. Relax. I'm going to see what shows up, and turn opportunities into summer fun. I mean, who would have thought my husband coming out of the house with a net to see if there were turtles in our flooded ditch would turn into an amazing family adventure with an Alligator Snapping Turtle? It's an evening we won't soon forget, and something I never could have planned. I could have said no… it's late, it's dinner time, bedtime will be late if we do this… but instead I chose to say yes. I chose to say yes to family fun time, to Summer fun and we created an amazing memory.
What about you? Are you a summer survivalist waiting for school to start, or are you relishing the lazy days of summer? Share your thoughts in the comments. 🙂