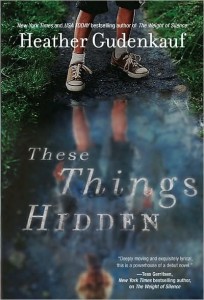 These Things Hidden

by Heather Gudenkauf
Published by Mira on January 18th 2011
Genres: Fiction
Pages: 337
Buy on Amazon (aff link)
Add to a Goodreads Shelf

When teenager Allison Glenn is sent to prison for a heinous crime, she leaves behind her reputation as Linden Falls' golden girl forever. Her parents deny the existence of their once-perfect child. Her former friends exult her downfall. Her sister, Brynn, faces whispered rumors every day in the hallways of their small Iowa high school. It's Brynn--shy, quiet Brynn--who carries the burden of what really happened that night. All she wants is to forget Allison and the past that haunts her. But then Allison is released to a halfway house, and is more determined than ever to speak with her estranged sister. Now their legacy of secrets is focused on one little boy. And if the truth is revealed, the consequences will be unimaginable for the adoptive mother who loves him, the girl who tried to protect him and the two sisters who hold the key to all that is hidden
I'm still playing by the "rules" next book comes off the top of the Summer Stack. The next book on the stack was These Things Hidden. It didn't take long to fall into this book. The first couple pages and I was hooked.
It's hard to describe this book, without giving too much away. There are a lot of "hidden" things that reveal themselves as the book progresses. Each time one is revealed I was surprised. I never saw it coming. There were multiple times I gasped and said "No Way" while reading this book. Unfortunately at least once my husband was sitting next to me and I was mocked mercilessly! Is it my fault the book was so good? No. It is not. 😉
This book is a perfect Summer read. Twisty and turny, interesting and easy to read. The story is well told. The characters are well developed. At some points in the book you aren't sure who to pull for because you end up caring about all the characters, as flawed as most of them are.
Stick this one in your beach bag, or take it on the boat. I read it in one day… just couldn't put it down.
You can get a copy of These Things Hidden at Amazon.com in hard cover, paperback, audible or, of course, on Kindle (you can be reading it in less than a minute!)