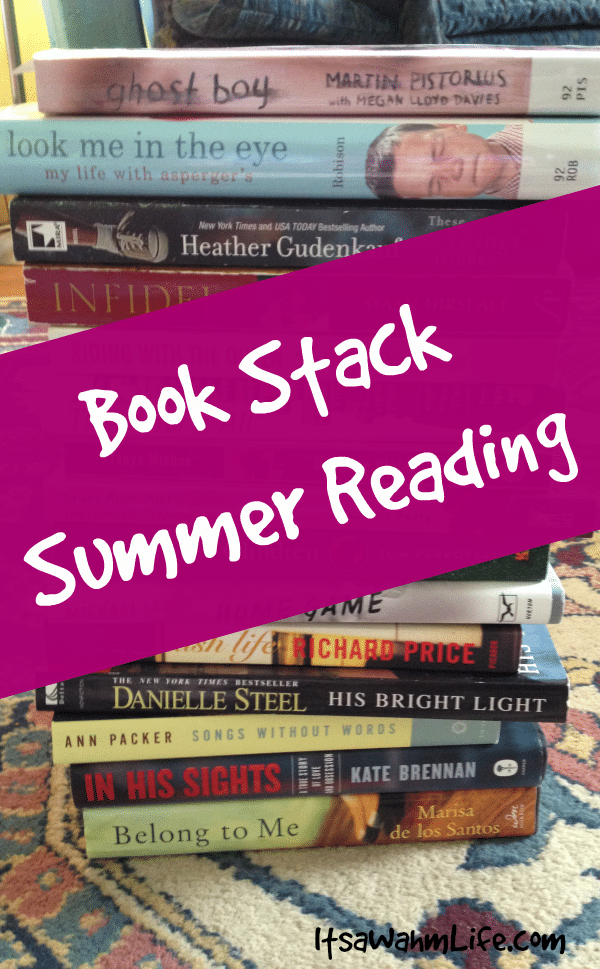 I've had a problem the last while… I just couldn't DECIDE what books to read. I'd gotten myself in a situation where I'd started a couple books I just couldn't get into, and found it next to impossible to just give up on them. But, I wasn't reading them, and because I don't like to start too many books (like more than 2) at a time, I wasn't reading anything!!
My mom just stopped by and dropped off a BUNCH more books, so I made a decision. I'm going to let those 2 books I've been stuck on go… return and/or get rid of them so I will stop feeling guilty about not finishing someone's story (they were both memoirs. 🙁 ), and just make a stack and start reading.
I'm doing this 25/25 challenge this year… 25 memoirs, and 25 works of fiction during the year 2015. So I made a pile, fiction, memoir, fiction, memoir… and I'll just read what's on the top of the stack.
I do have 2 memoirs I just grabbed at the library (before I knew my mom was going to drop books in my lap!) so they are on the top of the stack… but then it's every other one.
I've chosen 15 books… I think that should get me through the Summer, and heaven knows I'm sure some extra books will show up in my life between now and the end of the Summer. (oooh… it just dawned on me, maybe Hanna will be willing to do this too… though she gave me an odd look when I suggested it lol).
Without further ado… here's the stack.
Book Stack for Summer Reading:
Look Me In the Eye by John Elder Robison (memoir)
Ghost Boy by Martin Pistorius (memoir)
These Things Hidden by Heather Gudenkauf (novel)
Infidel by Ayaan Hirsi Ali (memoir)
Riding With The Queen by Jennie Shortridge (novel)
The Know-It-All by A.J. Jacobs (memoir)
Baggage Claim by Tanya Michna (novel)
Drunk, Divorced and Covered in Cat Hair by Laurie Perry (memoirish)
Little Children by Tom Perrotta (novel)
Home Game by Michael Lewis (memoir)
Lush Life by Richard Price (novel)
His Bright Light by Danielle Steel (memoir)
Songs Without Words by Ann Packer (novel)
In His Sights by Kate Brennan (memoir)
Belong to Me by Marisa de los Santos (novel)
Stay tuned… as I finish each book I'll be putting up a review!
What about you… are you making a list or playing it by ear for your summer reading list? I'd love to hear what you're reading (tell me in the comments!) If you'd like to read along with me, just click the links in the post (they're Amazon affiliate links… yes I'll make a small commission if you purchase after clicking the links), and you'll go right to Amazon.com where you can pick them up in paperback, hardback or even on Kindle. 🙂