One of the things I love to do is read. It's a way to take a break from the crazy of life, and fall into someone else's world/life. I love it. Last year I set up a book challenge for myself, and I read a lot… but was pretty bad about recording the books I'd read. oops. This year I went to the internet to look for another book challenge, one that would get me out of my reading rut, and help me find things I might not have found or read. I found quite a few challenges, and they looked fun, but I got to thinking about what I want for this year.
A couple summers ago I did the Blog Less Live More challenge. The year after that I started really diving into personal development, mindfulness and learning and learning and learning. This year, I decided it was time to stop focusing on learning, and time to start living the things I'd learned. It was kind of like when I was learning all about blogging and social marketing. I learned and learned and learned until one day I realized I had to stop learning and just start applying and living the things I'd learned. So that's where I'm at now.
A while back I picked up this creation journal, and sadly hadn't really used it much (though I love it a ton). I have been so focused on things other than work, blogging, business, etc that I had a hard time getting into the groove of the planners/journals I'd picked up. However, when I opened it this time I realized there was a word, at the top left hand corner of each week's page. That's when it hit me… I'd start living what I'd learned one word, one week at a time! <3
It just snowballed from there. I picked up a few more tools to help with living each week. (I'll go more into those when I share my first week's reading). But as the snowball started rolling downhill I realized it could be a lot of fun, and I could end up finding a lot of books I probably never would have read, if I just used the weekly word to find a book!
I wasn't sure if it could be done so I started playing around on Amazon. Entering the word of the week in the search box for the Books category, just to see what would come up. It worked!! Tons of books came up for all the words I tested out. Non fiction, fiction, biographies with the word in the title! Yes! I was on to something for sure.
Sure it would be fun for me to take this reading challenge by myself, but it would be TONS MORE FUN if I had some friends to do with me! So I put it all together. Here's an image of the weekly words, and you can also download the list here.
Here's the non rules for the challenge.
Take the word of the week. Find a book that relates, has the word in the title, makes you feel the word, reminds you of the word… whatever feels good. You can pick any genre, fiction, non fiction, whatever feels good and read it. 🙂 If a book a week is too much, then do what feels good, read what you want. Hell if you want to read them all out of order that's cool too. I will be reading in this order because I'm going to be working with the creation journal as well. Share your books on a GoodReads List, or stop by and share them in the comments of my post for the week. I can't wait to see what I know is going to be a vast array of books people choose all for the same word!!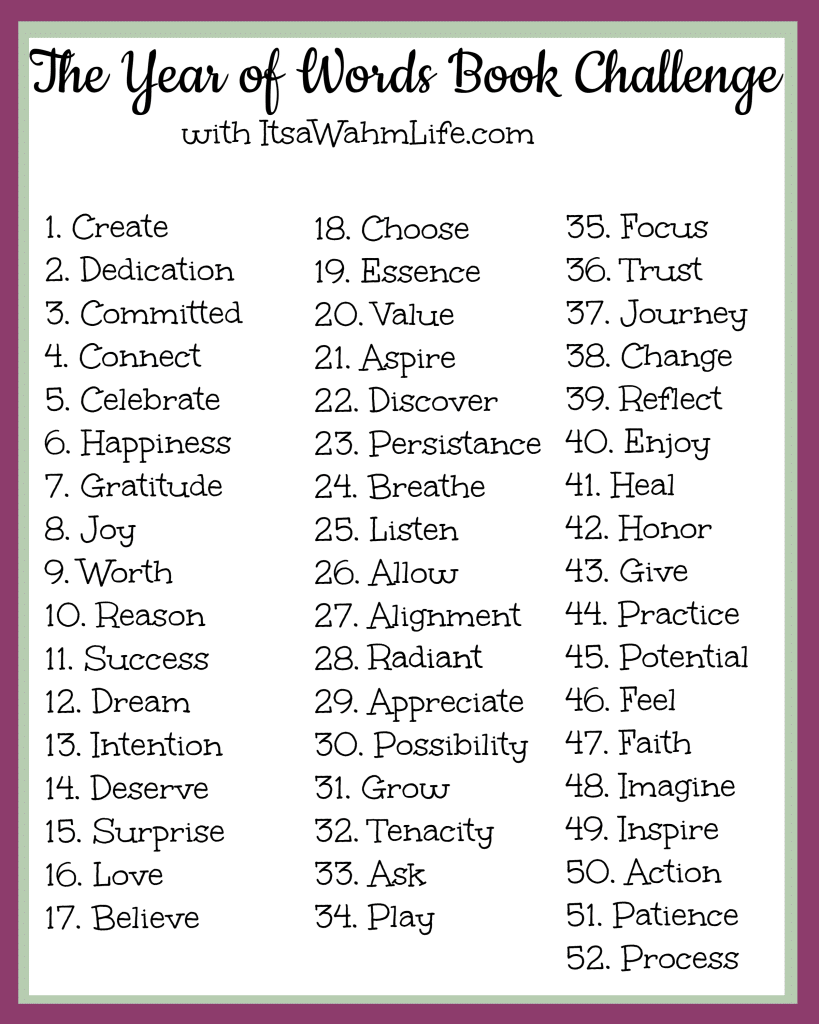 I've put together a Year of Words Book Club where you can track and chat about your books (and everyone else's). It's as low key, as the "challenge". Can't wait to see you there.
I have to say, this is feeling like a pretty exciting year! Can't wait to see where it goes! Are you in?