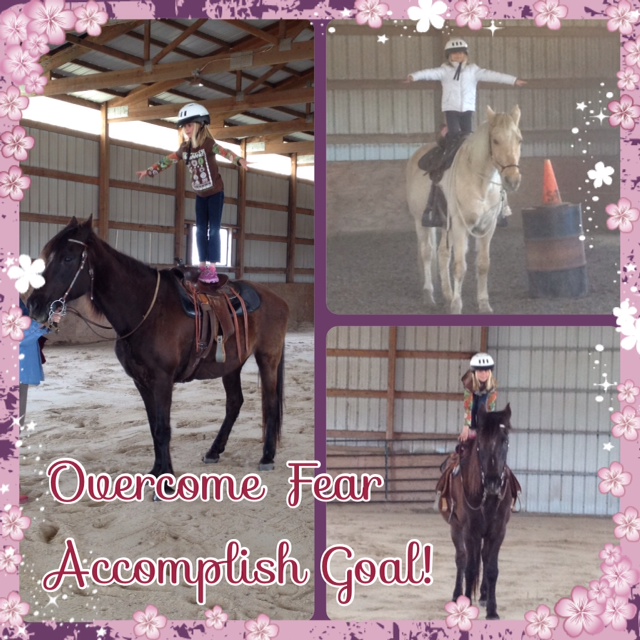 Over the last few weeks Hanna has been working up to standing on her horse. I don't know why she feels it's important to do this (maybe it was those trick riders we saw at Equifest) but whatever her reason… it's been her goal.
She started by kneeling (top right) on Vegas. Then she stood and held on (bottom right). Then she finally took the step and stood up and let go. (left).
She was really proud of herself for overcoming her fear and doing it. When she sat down in the saddle after standing on Mystic's back she said "wow that was kind of scary". Her riding instructor immediately said "ok, let's do it 3 more times, right now, so it's not so scary".
She did… and by the last time she was about ready to dance a jig up there.
I didn't really think much of it until this afternoon when I was on our team call. Our host, Niamh, was talking about doing things that are scary in your business… and using an "avatar" or an "alter ego" to get them done.
You can listen to the whole call ~ it was AMAZING and incredibly inspiring… I'm working on my alter ego today as soon as I'm done with this post! I think that's one of the most powerful ideas I've heard for overcoming fear, and getting through obstacles. Go ahead… listen here.
She also said, (I'm paraphrasing here) here's the deal… the first time you do something new, it's going to be scary… but if you do it a few times it won't be anymore."
Just like standing on a horse! Whether it's sending someone you want to know a message on Facebook, or you want to do a guest post on a blog of someone you admire… maybe you're pulling together the courage to do your first video… just gather up your courage and do it! Overcome the fear… then do it a few more times QUICKLY… and it won't be quite so scary anymore.
I've been looking back on things I do now and realized I was TERRIFIED to do them at the beginning… but by just jumping in and doing it the first time, and then doing it a few more times quickly those same terrifying things became "daily activities" that I don't even think twice about anymore.
It's a neat little trick, and it seems a little too simple so it's easy to blow off… but it works! Promise. 🙂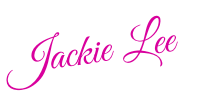 PS. If after listening to the call you realize you can't wait t a second longer… you KNOW you need to be part of this amazing team of Rebel Marketers… go ahead. Join us. It's definitely the best (and most profitable) decision I've ever made for my business. 🙂