I've been working online for many years now.  I've had quite a bit of  success… and I've had quite a bit of failure and the path of my journey has pretty much looked like the second drawing below.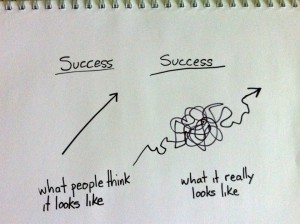 Here's the thing… we read so many sales pages, and shiny things that promise us the world, no work, fast money, no disappointment, no struggle ~ I think we completely forget that BUSINESS takes effort. There is no such thing as "overnight success".
If you see an "overnight success" story ~ I'd take a minute and ask them how many years it took to get there.

Entrepreneurship can be a ton of fun, it can be freedom, it can be a dream come true.
Especially if you go into it understanding there will be ups and downs. It will take a little time. It will take effort. It will take action. There will be people who don't do what they say they're going to do. There will be people who laugh at you and try to knock you down…
AND it's still worth it, because at some point you'll be sitting at your desk and you'll look over at the futon and you'll see this:
and you'll thank heaven that YOU got to see it and not the day care provider. Your heart will well up, and maybe your eyes will too… and you'll be so grateful that you stuck it out, and persevered.
How do you overcome the stuff that makes you want to quit?
You can counter all this negative stuff, and stay on the path by connecting with others who are on the journey. Meet people who have the same beliefs you have. Choose a business model that VALUES a team element so you KNOW you'll always have someone in your corner. Connect with people on your team… make friends ~ so you know when you have a down day someone will be there to pick you up and cheer you on.
Being a solo entrepreneur can be tough… but it can be so much better when you don't go it alone.
P.S. Not sure what kind of business allows you to have this kind of connection? Shoot me a message and I'll share my story of how I went from a hermit business owner to a team player and began to love my business again.