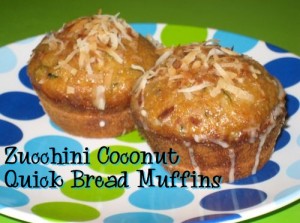 The other day my mom dropped off a big bag of zucchini (yay) along with a page from her King Arthur catalog with a recipe for Zucchini Coconut quick bread.
The recipe was for popovers… but I don't have a popover pan so we just made regular muffins. You could also easily do mini muffins with this recipe as well.
My husband was a little surprised when he took a bite and it wasn't a sweet muffin. This really is more of a bread recipe in a muffin tin… it's awesome with a little butter. 🙂
Zucchini Coconut Quick Bread Muffins
2 large eggs
1/3 c honey
1/2 c vegetable oil
1/3 c brown sugar
1/2 tsp ground ginger
1 c whole wheat flour
1 c all purpose flour
1 tsp salt
1/2 tsp baking soda
1/2 tsp baking powder
2 c grated unpeeled zucchini
1/2 c unsweetened shredded coconut
Preheat your oven to 350 and lightly grease your muffin tins (great job for the kiddo)
Combine the eggs, honey, oil and sugar until smooth.
Add the dry ingredients and mix until they are well combined.
Stir in the coconut and zucchini.
Use a 1/4 cup measuring cup to scoop the batter into your muffin tins. (It's the perfect amount, and another great job for the kiddo)
Bake for 24-30 minutes or until a toothpick comes out clean.
Remove from the oven and let them cool for 1o minutes in the pan, then turn them out and let them cool completely.
While they're cooling whip up the glaze. 🙂
Glaze:
1 c powder sugar
2 tbsp coconut milk
1/4 c toasted coconut ~ this is optional but definitely makes the muffin.
Mix the milk with the sugar and stir until smooth.
When they are completely cool dunk the tops of you muffins in the glaze and sprinkle the toasted coconut on top.
This recipe will make a dozen full size muffins.
Enjoy!!