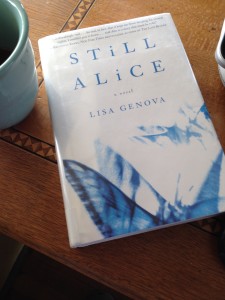 Still Alice

by Lisa Genova
Published by Gallery Books on December 2nd 2014
Genres: Fiction
Pages: 352
Buy on Amazon (aff link)
Add to a Goodreads Shelf


In Lisa Genova's extraordinary New York Times bestselling novel, an accomplished professor diagnosed with Alzheimer's disease learns that her worth is comprised of more than her ability to remember. Now a major motion picture from Sony Pictures Classics starring Julianne Moore, Alec Baldwin, Kate Bosworth, and Kristen Stewart! Look for Lisa Genova's next novel Inside the O'Briens.
Alice Howland is proud of the life she worked so hard to build. At fifty years old, she's a cognitive psychology professor at Harvard and a world-renowned expert in linguistics with a successful husband and three grown children. When she becomes increasingly disoriented and forgetful, a tragic diagnosis changes her life—and her relationship with her family and the world—forever.
At once beautiful and terrifying, Still Alice is a moving and vivid depiction of life with early-onset Alzheimer's disease that is as compelling as A Beautiful Mind and as unforgettable as Ordinary People.
I've been in a book funk lately. I've started some books, couldn't quite get into them, or found them so incredibly boring or poorly written I didn't know what to do! I hate giving up on authors and books in the middle, but I also hate reading boring and badly written books! Lucky for me, my mom stopped by after book club yesterday with Still Alice in hand (to share with her neighbor actually lol). I'd seen this book around, and quite frankly thought it was going to be too depressing a topic to read about. But I was getting desperate and my mom said it was really good.
I picked it up in the late morning and before I knew it, it was late afternoon. Luckily my kiddo was home sick or I probably would have missed pick up! I was completely consumed from the first page. I'm a sucker for a fast moving, plot driven mystery/thriller. I can lose myself completely in those books. I don't know that I've ever fallen so deeply into a book that was primarily character driven.
These characters were so well written, so real. At times I forgot this was a novel, because the characters came so alive I knew the author must have lived this. However, it is, in fact, a novel. It is actually Lisa Genova's debut novel.
As an author, and reader, I was absolutely blown away by the way Lisa Genova weaves us deep inside Alice. It's as if you're in the first seat on a roller coaster. You live it through Alice's eyes.  The way we are transported into what Alice is feeling and experiencing from the inside is utter perfection. I have never read another book that has done such a stellar job of putting me inside a character.
This could have truly been a depressing book, but it wasn't. I'm not going to say it isn't sad… it is, and I cried multiple times reading it. However, there are glimmering moments. Moments that come shimmering to the surface, just as you think this book is going to be more than you can take, the story too hard to read, too hard to watch. Moments where people rise to the occasion, where relationships, once strained, come together. There are moment where love shines, and even though the situation is impossible, there is hope, and even joy.
It is those moments that make this book extraordinary. I am grateful I read the book before I thought about seeing the movie… I'm sure the movie is very good, but this is definitely one of those books where the book will always be better.
If you're looking for a book you can fall into, that is exceptionally well written, and tells a story you probably have never heard before, this is it. You can get Still Alice in Hardback, Paperback, Kindle and Audio versions on Amazon.com
This post contains affiliate links. If you decide to read Still Alice and purchase from amazon.com after clicking that link right up there, I will make a small commission. 😉 TIA