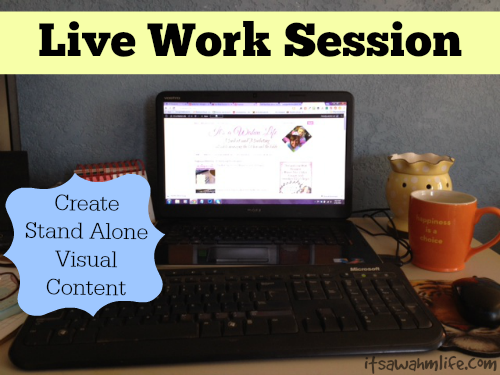 If you're using social media as part of your marketing strategy you know you can't just throw out link after link and expect the traffic to just cascade to your site. Nope. Social media takes a little bit more finesse than that. It takes creating a feeling in your reader/follower/friend/circles. When you help your community feel good they generalize that good feeling, not only to whatever made them feel it, but to the person who shared it with them… and the other things you share.
That's why creating stand alone visual content is important if you want to succeed in social media marketing. It's all about creating an emotion, and being helpful, giving your audience what they want and need… and in less than 20 minutes a day you can do it! The payoff is well worth it.
What is a live work session?
A live work session is where I basically do my work… with the camera on. I explain as I go why/what I'm doing, and you can see me actually do it. I love live work sessions because I actually get my work done, and provide great training at the same time! win/win.
So grab a cuppa something, and open two tabs… start watching the live work session in one, and take action in the other. It's a replay so you can pause the video! Go ahead, there's nothing that makes me happier than people taking action on the training I provide. 🙂
Live work session: Creating Stand Alone Visual Content
If you've got questions please ask them below in the comments… I'm happy to clarify.
Here's links to a couple of my favorite PLR vendors:
Oh… here's some free "tips" PLR which would be perfect for visual content!!
Have fun, and when you share your visual content make sure you tag me so I can check it out!! If we're not connected yet… here's how to connect with me. Facebook. G+ Pinterest.