Coconut Curry Shrimp is one of the recipes Hanna picked to cook this week. However, there was a freak thunderstorm in town, and she was at the pool, so I had to run get her. She inadvertently left her glasses at the pool, and had a bit of a panic attack when she didn't know where they were. Needless to say, she was in meltdown mode when it came time to make dinner. (Gotta love having a spirited kiddo, right?!)
So, we did not make the recipe she'd picked out of The Pioneer Woman Cooks Dinnertime cookbook, we just made the simple curry I make (usually with chicken) instead. Now, I'm also not saying I'm an expert on Indian cuisine. This is not authentic Indian food, let's call it Kansas Curry, K? It is yummy though, and it's a simple dish, perfect for beginning cooks (of any age!) Even though Hanna wasn't up to cooking dinner on her own, she did help chop the veggies, and do quite a bit of the work for this dish. 🙂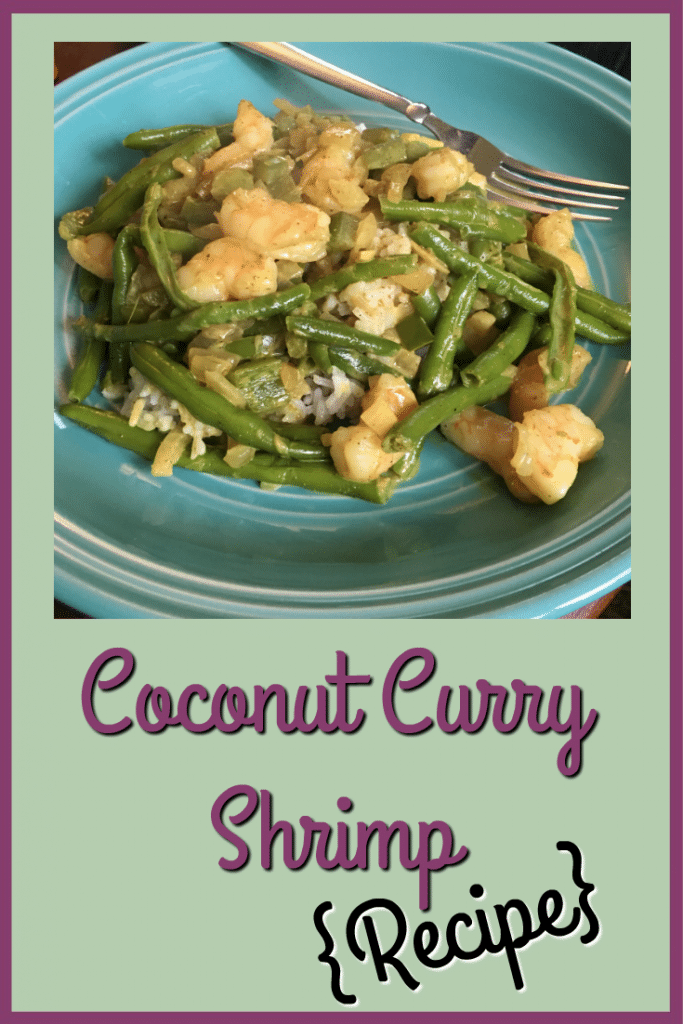 What you need:
Shrimp (we used a pound of frozen peeled tails still on medium shrimp)
2 Tbsp Curry Powder (make sure you don't get the RED curry powder… it's super spicy!! eek)
1 can coconut milk
Frozen green beans (we love those steam in bags)
Green Pepper (diced fairly large, but not too large lol)
medium onion (diced)
garlic a couple cloves (diced)
2 tbsp coconut oil or olive oil
Rice or Cous Cous to serve it on
What you Do:
Once again, make sure you have the orange curry, it's mild, but has lots of flavor. I made the mistake of grabbing red curry once, and let's just say that was food wasted. 🙂
Get all your ingredients chopped and diced, it goes really quickly once you get started. You don't want to give your curry the opportunity to burn, so have everything ready.
Add your oil to a large pan. We use a wok, because I love the wok, and this seems to be the only dish I use it for, but any pan will work.
Turn on the heat, and let the oil get warm.
Add your curry powder. We're going to let it cook a little before we add the other ingredients. It will burn easily so make sure you stir it a lot, and keep an eye on it. There will come a moment when all the sudden BOOM you smell that amazing smell of curry everywhere. Then add the green peppers, onion and garlic, and turn the fire to medium.
Cook it all, stirring regularly, to mix the curry in with the other ingredients for a few minutes to soften the veggies.
Next, add the coconut milk, and let simmer for 10 to 15 minutes. This will thicken your coconut milk and give you a delightful sauce. It also gives the veggies time to finish cooking.
While you're doing that, go ahead and steam your veggies in the microwave.
Add your shrimp. (If you bought shell on and/or tail on shrimp, make sure you take that all off before you add them to the pan, and make sure you've defrosted them!)
Add your steamed green beans now too.
Shrimp doesn't take long to cook. Just a couple minutes, so watch them closely. Stirring the pot, to get all the curry flavor on all the ingredients. When the shrimp turn pink and curl, they're done and so are you!
Take the pot off the heat, and serve over rice or cous cous.
** Notes:
This is a super simple dish, and you can sub out just about any of these ingredients and it will still be great. I often use broccoli and cauliflower in this dish. I also use chicken instead of shrimp. If you're going to use chicken add the chicken in with the onions and garlic to give it time to cook. 🙂
I hope you enjoy this dish. If you make it, definitely let me know how it goes!!  Below you'll find some of the ingredients we use, in case you need help finding the right curry powder. 🙂