I must be getting older, or something… because roasted brussels sprouts are now one of my favorite foods… so when I saw this amazing dip. I was on it.
It's super simple, if you're going to a party you could totally prepare it ahead of time and stick it in the oven when you got there.
This is pretty simple to make… but all in all takes about an hour (most of the time it's cooking).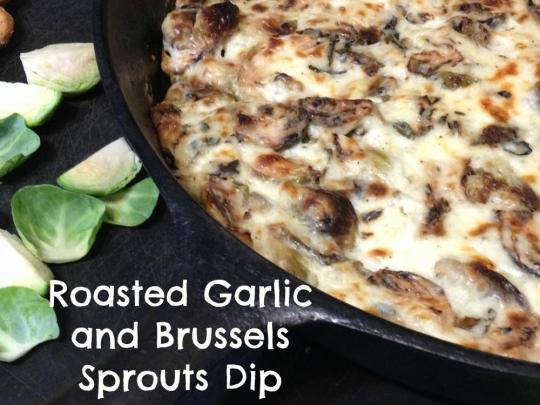 Roasted Garlic and Brussels Sprouts Dip
What you need:
1 lb of brussels sprouts
1 tbsp olive oil
salt and pepper to taste
1 clove of elephant garlic (or two regular cloves)
1/2 tsp thyme (make sure you chop it up small)
4 oz cream cheese (at room temp)
1/4 c sour cream
1/4 c Mayo (don't use miracle whip)
3/4 c shredded mozzarella
1/4 c grated parm
more salt and pepper to taste
What you do:
Clean and quarter the brussels sprouts.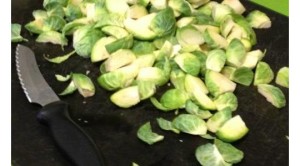 Toss them and the garlic in a bowl with the oil, salt and pepper. Pour onto a flat pan (make sure they're spread out and not all on top of each other) Roast them in a 400 degree oven for 20-30 minutes.
Don't mess with them or stir them around… just let them roast. 🙂 Leaving them alone is what makes them so yummy!
Flip the sprouts about half way through the time so they're evenly roasted, they will be a bit blackened and absolutely delicious. Don't eat too many… you need them for the dip. 🙂
Squeeze the roasted garlic out of the skin and into a bowl. Mix all the rest of the ingredients right in there. Add the brussels sprouts, and stir gently so you don't break them apart.
I used a cast iron skillet (because I love cooking with them) but a baking dish would work just as well. Place the mixture in a baking dish and cook at 350 until bubbling along the sides.
I went one step further, and threw it under the broiler for a couple minutes to get it nice and brown on top. (Make sure you watch it while it's under the broiler, it would be a tragedy to come this far and burn it up).
Grab some crackers or toasted bread, or even chips and dig IN! MMMMM it's so good.