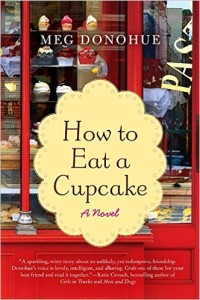 How to Eat a Cupcake

by Meg Donohue
on March 13, 2012
Genres: Fiction
Buy on Amazon (aff link)
Add to a Goodreads Shelf


WHEN CHILDHOOD FRIENDS ANNIE AND JULIA RECONNECT AS ADULTS AND DECIDE TO OPEN A CUPCAKE SHOP, THEY MUST OVERCOME OLD BETRAYALS, FIRST LOVES, AND A MYSTERIOUS THREAT IN THIS DELICIOUSLY CHARMING DEBUT....
Funny, free-spirited Annie Quintana and sophisticated, ambitious Julia St. Clair could not be more different. Yet, as the daughter of the St. Clair's housekeeper, Annie grew up side-by-side with Julia in the St. Clair's San Francisco mansion and the girls were as close as sisters until a life-altering betrayal destroyed their friendship.
A decade later, Annie has become a talented, if underpaid, pastry chef who bakes to fill the void left in her heart by her mother's death. Julia, a successful businesswoman, is tormented by a painful secret that could jeopardize her engagement to the man she loves. After a chance reunion prompts the unlikely duo to open a cupcakery, the women struggle to repair their friendship as the shop becomes the target of an increasingly hostile series of incidents. Despite the threats of the present and shadows of the past, Annie and Julia – emboldened and soothed by intoxicatingly delicious cupcakes – learn the power of forgiveness, find love where they least expect it, and discover the importance of family, in all its complex forms.
Recently I opened Facebook and found a note from a friend. She'd just finished a book, thought I'd like it, and wanted to send it to me. Two of my favorite things… a book recommendation from a friend, and free books. 🙂
As we were pulling out of the driveway to head to Tulsa for a spring break visit I stopped by the mailbox, and the envelope inside made me smile. I love when books arrive at the perfect time.
I was excited to dive into this novel, and lose myself in cupcakes for a while. At the beginning I was really intrigued. It felt like a book I never would have picked for myself. I tend to read more mystery type fiction.
I love when a book grabs me with the first line, and just makes me want to read more. This book did that…
"People frequently make the assumption that I'm unreliable."
She then goes on to share that she thinks her hair is part of the reason. (It's curly). This type of lightheartedness made me immediately like this character. We are quickly introduced to the major players. It is also easy to quickly form an opinion, to like or dislike each of the characters.
I kind of love it when that happens in a book… especially when the author walks you right out of your initial impression and turns everything upside down, which is pretty much what happens here. The people you thought were good, not so much. The people you thought were awful… yeah, not so much with them either. 😉
All in all this was a fun read. It was entertaining. The story was interesting, and easy to fall into. The characters were well developed, easy to connect with and care about. I'd say this would be a perfect book to read on the beach, or at the pool… and warmer weather is coming (or so they tell me). It's ok if you don't want to wait, it's a great book for a cool Spring day too.
You can get How to Eat a Cupcake in paperback or Kindle format at Amazon.com