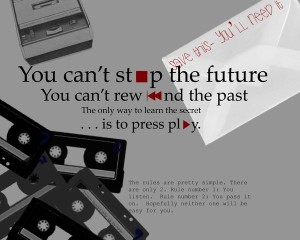 Thirteen Reasons Why

by Jay Asher
Published by Razorbill on June 14th 2011
Genres: Young Adult
Pages: 288
Buy on Amazon (aff link)
Add to a Goodreads Shelf


You can't stop the future. You can't rewind the past. The only way to learn the secret. . . is to press play.
Clay Jensen doesn't want anything to do with the tapes Hannah Baker made. Hannah is dead. Her secrets should be buried with her.
Then Hannah's voice tells Clay that his name is on her tapes-- and that he is, in some way, responsible for her death.
All through the night, Clay keeps listening. He follows Hannah's recorded words throughout his small town. . .
. . .and what he discovers changes his life forever.
This is only the second young adult book I've ever read. I picked up Paper Towns and this book at the library. I wanted to do a little research into young adult fiction, thinking it might be the best way to write the ideas floating around in my head. While I enjoyed the story of Paper Towns, I was not a huge fan of the tone of it. I was a little put off, feeling like I was hanging out with some over the top 18 year olds. So when I got to this book I wasn't sure I even wanted to read it.
In fact, when I was at the library looking through it I thought I'd decided to put it back. As I looked through, the book is at least 50% italics. I thought to myself, I don't want to read a book of italics! I must have been distracted by the kiddo and just grabbed it anyway.
And boy am I glad I did.
The premise of this book is so interesting, and thought provoking. In fact, this book grabbed me from the first sentence and pulled me in. It didn't let go until the last word on the last page.
I loved the story, the tension, the suspense, the curiosity of it. There were characters I loved and just wanted to take in my arms and hug and tell them it would all be ok. There were others I wanted to hunt down and find so I could just punch them in the face.  All of the characters were well constructed, they were all flawed, and yet so easy to relate to. You either were that character or knew someone just like them in school.
What I liked most about this book though, was how it got me thinking. (Isn't that always the case with my favorite books lol). It really made me think about how our actions affect others. I'm pretty sure real life doesn't not make such a complete and interconnected circle as this book did, but it made me acutely aware of how our lives are weaved together, flowing in and out, the actions of one creating reaction of another, and thereby affecting their actions.
It made me even more aware of my actions when I'm in the world. It made me more aware of my tone of voice, whether I'm smiling at others, reaching out, encouraging people to reach out to me. I'm not in high school anymore, and I think the world really isn't that far away from high school. People still need to know there is someone who cares, someone they can talk to in the world.
So… if you're looking for a easy, and thoroughly enjoyable read (with a little lesson to boot), I highly recommend Thirteen Reasons Why by Jay Asher.
You can grab Thirteen Reasons Why in paperback, hard cover, kindle edition, as well as the audio book version on Amazon.com
This post includes affiliate links. If you purchase from Amazon.com after clicking the link I will receive a small commission. Thanks and enjoy!