I've been going through an older site of mine, that I'm going to let go and found this recipe. One thing I love about blogging is being able to go back through older posts and see those special moments I've shared in the kitchen with my kiddo. Yes, this post is old… she's much bigger now… but it's so cute I couldn't help sharing (and keeping this memory alive where I can look back on it from time to time).
I love lasagna… but for some reason it feels so hard to make. I recently saw a recipe for Lasagna roll ups and it has now become my go to Lasagna recipe. It's so quick, easy, and the little ones can help!
Here's what you need: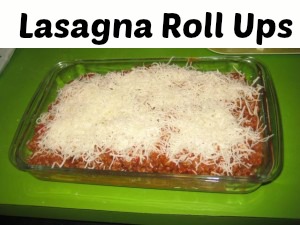 Lasagna noodles
Jar of spaghetti sauce (watch out for high fructose corn syrup!)
Ricotta cheese
Shredded Mozzarella
Parmesan
1 egg
Here's how we put it together. 
1. Get your noodles on to boil.
Make sure you picked up regular lasagna noodles. Boil the water, and pop them in to cook.
2. Get your sauce started.
We use  a jar of Ragu Garden style. I've looked at a bunch of different store bought spaghetti sauces, and this one does NOT contain high fructose corn syrup, and does have veggies! It's super cheap so this short cut makes life much easier! (save a little of the sauce and pour it right in the bottom of your baking dish so it doesn't stick)
Since my husband is a serious carnivore I add meat. I dice up an onion, saute it until it's tender, and then add the meat. Brown it up and then add the sauce.  You can also add diced veggies like carrots, and zucchini to the sauce to get some additional vegetables!
3. Put together your cheese mixture.
Dump the ricotta in a bowl, and then add a handful of mozzarella in, and a few shakes of parmesan. Add the egg and stir it around until it's combined well.
4. Once the noodles are done drain them and run some cold water on them so they'll cool off and you can handle them.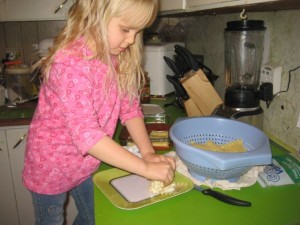 5. Pull out one noodle at a time and spread the cheese mixture up the middle. Don't put on too much or it will all smoosh out when you roll it up.
6. Have your little helper roll up the noodle with the cheese mixture and place it in a baking dish.
7. Once you've got them all rolled top with the sauce and some more mozzarella cheese.
8. Bake at 350 for 20 to 25 minutes or until the cheese is melty and golden brown.
9. Add a side salad with lots of fresh raw veggies to complete this meal.