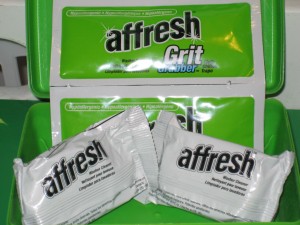 Not too long ago I left a comment on a giveaway for Affresh Dishwasher cleaner. I didn't win the giveaway, but the company did contact me to see if I'd like to try it out, give my opinion and run a giveaway for my readers. I, of course, said I'd love to.
The thing is when the package got here I noticed the Affresh washing machine cleaner kit in there as well. Four or five years ago we got a new washing machine. I was doing loads and loads of cloth diapers and our top loader pooped out. After much research and investigation we decided to get a front loader (thinking it would be a better option for cleaning cloth diapers ~ it wasn't, for us, by the way).
Anyway… as the years went by a terrible build up of mildew starting happening around the entire seal of the door. I have tried many many things to get this disgusting mildew off the rubber seal but have found nothing that helped.
Well… part of the Affresh Washer cleaning kit is something called the Grit Grabber cloth and it's designed exactly for this purpose. It's just a little wet cloth with a textured side, and you rub it around your seal to take off the build up and mildew (and other dirt, grime and yuckiness). I was pretty excited to tackle that, but first the Washer Cleaner.
How to use the Affresh Washing Machine Cleaner
The washer cleaner is just a little puck you throw in your washing machine and run it through a full hot cycle. Apparently on HE washers an odor causing residue can accumulate on the outside of the drum. Affresh washer cleaner is supposed to remover that leaving your machine fresher and cleaner.  Well, my machine was a bit funky I'll tell you that much.
I threw the puck in and let it wash. I definitely noticed the drum was much shinier and cleaner afterwards. I didn't notice that much difference in the funky smell though. However… as I was writing this review I looked through the instructions and realized for bad funk you need to run 3 cycles and 3 pucks. I stopped writing and just ran two more loads and HOLY BRAND NEW MACHINE. I can't believe the difference. The machine smells fresh and clean. There is not a hint of nasty funk. I'm really quite amazed.
Back to after the first cycle:
I grabbed the Grit Grabber and started in on the seal. HOLY COW. Just wiping the seal the first time around the entire Grit Grabber came out completely black. It's really amazing since I haven't been able to find anything that gets rid of that mildew, and this just wiped it off like nothing. I ended up rubbing and scrubbing the seal with 4 Grit Grabbers before they stopped coming up completely black.
I'm not going to say my seal looks perfect… it doesn't. There is still some staining from the mildew, but I truly believe (after seeing all that came off) that it is much MUCH cleaner than it was before. I wish I'd had this product from the beginning, because I think if I'd swiped the seal with the Grit Grabber once a month or so the problem wouldn't have gotten so bad, and the stains never would have happened. I've heard from other people they've experienced the same mildew issue with their front loaders ~ I'd definitely recommend trying the Grit Grabber from the Affresh Washing Machine Cleaner Kit. If you don't have the problem yet, get ahead of it. It's gross.
Where to Buy Affresh:
If you can't wait for the giveaway you can get both the Affresh Washing Machine Cleaner and the Affresh Dishwasher/Disposal Cleaner from your local Target, Walmart, Sears, Best Buy, and even Kroger. They are also available at Amazon.com. Why not add them to your subscribe and save account?
How to enter the Giveaway
This giveaway will end next Wednesday, March 30th at 10am Central time. I will be drawing 3 winners for this giveaway, and each will receive the Affresh washer and dishwasher kits.
So how do you enter?
1. In the comments tell me your best tip for keeping your washing machine clean. (or a tip for getting rid of mildew would work too!)
2. Tweet this post, and then leave a comment letting me know you did that.
3. Like my fanpage and then leave me a comment letting me know you did that as well.
You have 3 chances to win. Winners will be notified by the email address used in their comment.
I was provided with the product discussed above for my honest review and the winner will receive the same prize mailed directly from the PR company, no other compensation was, nor will be provided and all opinions and experiences are 100% my own.