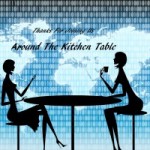 It's Spring Break week here. It's amazing how quickly I got used to having those couple hours of quiet while Hanna's in school. 🙂 Today on Around the Kitchen Table we talked about how to stay productive and have fun with your while their home for Spring Break.
Some great tips, and a great project idea we're going to dig into this afternoon. (stay tuned Friday for the pics)
If you missed the show this week, no worries. Here's the replay. 🙂
Next week we're going to be talking about one of my favorite topics.
BOOKS!!
We'll be talking about the books we've read recently and deciding on a book to read for next month's book club episode, so please join us and chime in on what you'd like to read for book club!
Our show is every Tuesday morning at 10a Central time at www.CelebrateWahms.com
Hope we see you there.