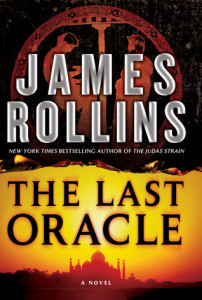 The Last Oracle (Sigma Force, #5)

by James Rollins
Series: A Sigma Force Novel
Genres: Fiction
Pages: 516
Buy on Amazon (aff link)
Add to a Goodreads Shelf


What if you could bioengineer the next great world prophet: scientifically produce the next Buddha, the next Muhammad, or the next Jesus? Would it mark the Second Coming or initiate a chain reaction with disastrous consequences?
A master at combining historical and religious intrigue with edge-of-your-seat adventure, "New York Times" bestselling author James Rollins brings back SIGMA Force to battle a group of rogue scientists who've unleashed a bioengineering project that could bring about the extinction of humankind.
In Washington, D.C., a homeless man dies in Commander Gray Pierce's arms, shot by an assassin's bullet. But the death leaves behind a greater mystery: a bloody coin found clutched in the dead man's hand, an ancient relic that can be traced back to the Greek Oracle of Delphi. As ruthless hunters search for the stolen artifact, Gray Pierce discovers that the coin is the key to unlocking a plot that dates back to the Cold War and threatens the very foundation of humanity.
An international think tank of scientists known as the Jasons has discovered a way to bioengineer autistic children who show savant talents--mathematical geniuses, statistical masterminds, brilliant conceptual artists--into something far greater and far more "frightening," in hopes of creating a world prophet for the new millennium, one to be manipulated to create a new era of global peace . . . a peace on their own terms.
Halfway around the world, a man wakes up in a hospital bed with no memory of who he is, knowing only that he's a prisoner in a subterranean research facility. With the help of three unusual children, he makes his escape across a mountainous and radioactive countryside, pursued by savage hunters bred in the same laboratory. But his goal is not escape, nor even survival. In order to thwart a plot to wipe out a quarter of the world's population, he must sacrifice all, even the children who rescued him.
From ancient Greek temples to glittering mausoleums, from the slums of India to the toxic ruins of Russia, two men must race against time to solve a mystery that dates back to the first famous oracle of history--the Greek Oracle of Delphi.
But one question remains: "Will the past be enough to save the future?"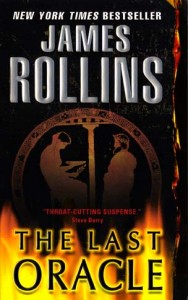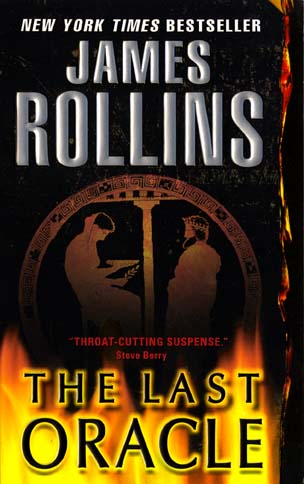 I finally finished the next book in the Sigma Series. The Last Oracle, by James Rollins. These books just keep getting better and better. This one really grabbed my attention and held it to the very end.
Well, let's not jump ahead… here's a synopsis.
Commander Pierce is walking across the Washington Mall after finally giving up hope that his partner was still alive, after the escapades of the last book when a homeless man stumbles up to him and is suddenly shot by a sniper.
As the homeless man is dying he gives Pierce an ancient coin. Pierce thinks he was the target of the assasination, but soon comes to find out he was not. The ancient coin leads back to the oracle of Delphi and begins to open up a trail which leads to a big secret alliance that was formed between different countries during the cold war.
Pierce races around the world trying to solve the mystery, and save the remarkable children that have been caught up in this conspiracy and experimentation for all these years.
This book has it all…
new characters, a great plot, a smidge of believability (which you know I love in these books), lots of action, big hoorays, and a couple very sad moments.
All in all this is yet again another fantastic book from the Sigma Series by James Rollins. This I'd say is one of my favorites.
You can pick up The Last Oracle in numerous formats including, paperback, hard back, Kindle, and audiobook at Amazon.com
I'm on to the next Sigma Series book which is The Doomsday Key… it looks pretty good too! What's your favorite James Rollins book? Do you love the Sigma Series books or do you prefer his stand alone books? (I have a couple of those on the shelf left to read as well!).