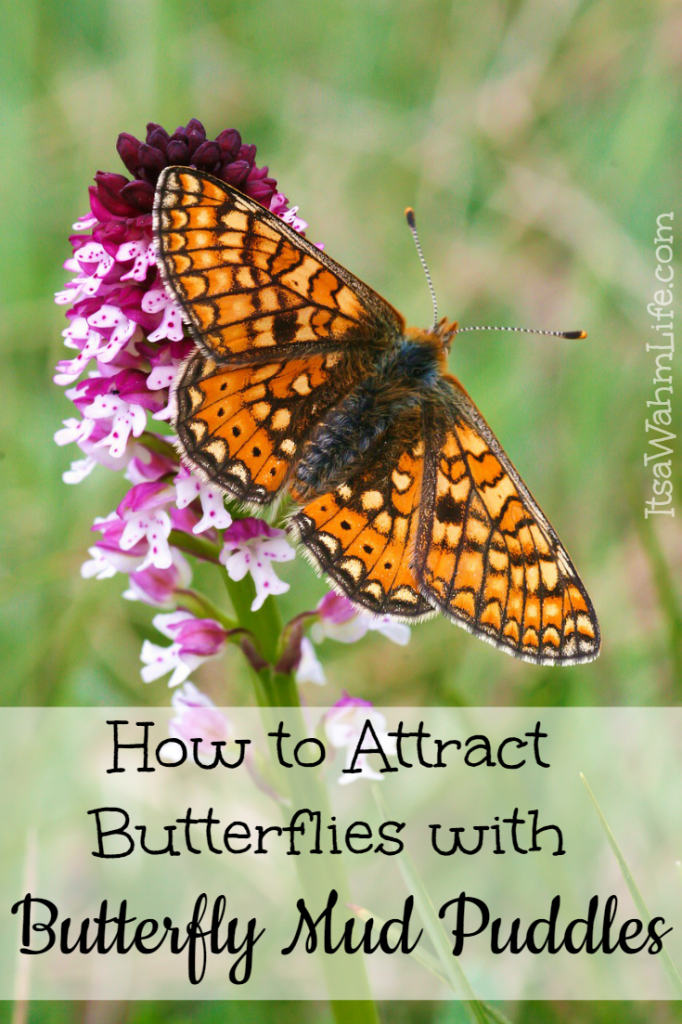 Spring has finally sprung. The weather is warm, and my Lilac bush is blooming, which is attracting butterflies like crazy! YAY. We've got Monarchs and Swallowtails, and I've seen some Painted Ladies. Hanna and I LOVE butterflies, so it's really exciting to see so many flying around.
Butterfly Facts
Did you know that butterflies need to drink more than nectar?
They need to drink water, but can't just drink it out of a pool of water?
They actually drink from puddles of mud.
Butterflies need trace nutrients and sodium that come out of the soil. They get this from mud puddles.
Butterfly Mud Puddles
Rain has been hard to come by here, and I was looking through the book Toad Cottages and Shooting Stars and found a great recipe to make a Butterfly Mud Pie.  It's really simple.
Grab some dirt (I used organic potting soil)
Add some sand
Add some salt
Add water to make mud
The recipe was easy, but what would we put our mud puddle in?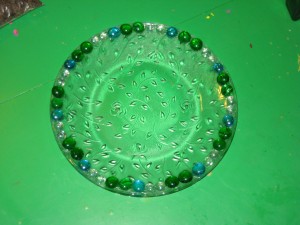 Today is my Mom's birthday and Hanna and I decided to make her a butterfly mud puddle for her birthday. We used things we no longer use around the house (good recycling lesson), including an old plate (left over from my wedding lol), flat bottom glass marbles ~ and that's it. 🙂
I let Hanna make up the pattern she'd like to use for the marbles. She picked white, white, blue, green green. We set out the pattern all the way around the plate, and then started gluing. We used a type of contact cement for this ~ that's waterproof. When using contact cement or similar types of glue it's best to apply glue to both items you're gluing and then let them dry quite a bit, then put them together.
We finished the pattern of marbles, and then mixed up the dry ingredients of the mud puddle. We put it in a zip top bag and wrote on the bag, "Butterfly Mud Pie, Just add water".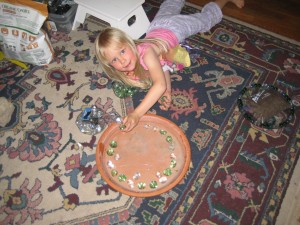 Then Hanna wanted to make one for ourselves. 🙂 We had been using a large clay plate as a "bird bath", however, it's nearly impossible with the wind and heat to keep water in it. We decided that would make a great butterfly mud puddle.
She chose some different marbles for this one, they look more like rocks. She then chose the pattern she wanted to use (green, green, white, white) and I put all the glue on. It took a lot to be patient and wait for the glue to dry ~ which meant we were pushing the marbles back in place for quite a while. 🙂
We let ours dry overnight, and today we'll make the mud pie and add it to the plate. It was the first question she asked when she got up today, which makes me think this project was a definite winner.
You can also add a rock in the middle for the butterflies to stand on. I've heard you can put a little maple syrup on it for an added treat for the butterflies, but I'm not so sure about that. It seems to me it would just attract ants. 🙁